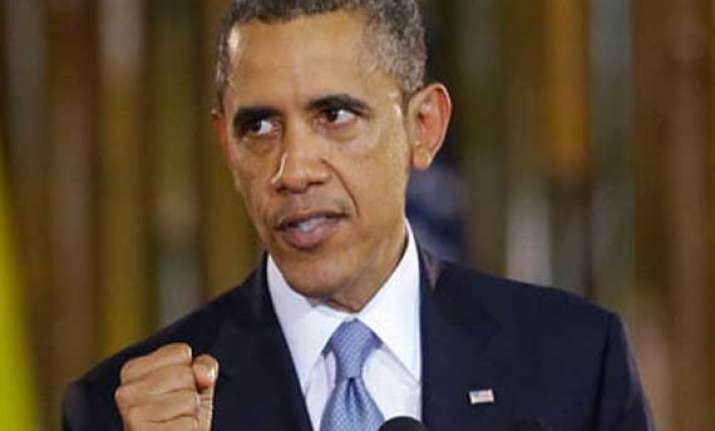 Washington: US President Barack Obama today imposed sanctions and placed restrictions on individuals supporting the Russian incursion and activities undermining democratic processes in crisis-hit Ukraine.  
In a communication to the Congress, Obama said the move does not target Ukraine, but rather is aimed at persons who undermine democratic processes and institutions in Ukraine; threaten its peace, security, stability, sovereignty and territorial integrity; and contribute to the misappropriation of its assets.
The White House said the US is pursuing and reviewing a wide range of options in response to Russia's ongoing violation of Ukraine's sovereignty and territorial integrity - actions that constitute a threat to peace and security and a breach of international law.
As a result of the new instructions, the State Department is putting in place visa restrictions on a number of officials and individuals, reflecting a policy decision to deny visas to those responsible for or complicit in threatening the sovereignty and territorial integrity of Ukraine.  
"This new step stands in addition to the policy already implemented to deny visas to those involved in human rights abuses related to political oppression in Ukraine," White House Press Secretary Jay Carney said.  
"This EO (Executive Order) is a flexible tool that will allow us to sanction those who are most directly involved in destabilizing Ukraine, including the military intervention in Crimea, and does not preclude further steps should the situation deteriorate," Carney said.
These actions, he said, build upon the previous actions the US has taken, including suspending discussions with Russia on trade and investment; suspending other bilateral meetings on a case-by-case basis and putting on hold military-to-military engagement, including exercises.  
"Pro-Russian" forces have reportedly taken de facto control of Crimea, an autonomous peninsula within Ukraine with a Russian ethnic majority, blocking Ukrainian troops in their barracks in the most serious stand-off between the West and Russia since the Cold War.