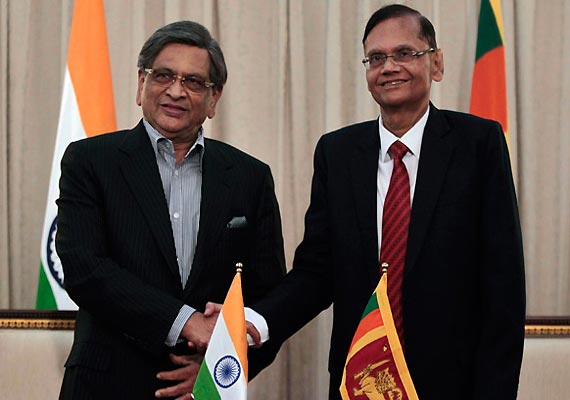 Colombo/New Delhi, Mar 20: Sri Lanka today requested India to "reconsider" its support for a US-backed resolution, censoring Colombo at the UN Human Rights Council, a day after New Delhi said it is "inclined to" vote in favour of it.  
Lankan Foreign Minister Gamini Peiris telephoned External Affairs Minister S M Krishna and requested him to reconsider India's decision to vote in favour of the resolution against Colombo at the on-going UNHRC session in Geneva, official sources said in New Delhi.
Peiris, who is currently in Geneva to drum up support, assured Krishna that Lankan government will look into the cases of alleged violation of human rights during the country's civil war against the LTTE which ended in May 2009 with the elimination of the Tamil Tigers' top leadership.  
The Lankan minister also underlined that India is his country's close neighbour and hoped that New Delhi will assess its request favourably in view of the "excellent bilateral relations" between the two countries, sources said.  
Sri Lanka is bitterly opposed to the resolution which calls for implementation of Colombo's own reconciliation commission recommendations, request the government to present an action plan detailing the steps government has taken to implement the recommendations and encourages the UN High Commissioner of Human Rights to provide technical assistance to Sri Lanka towards implementation.  
The resolution is being branded by Colombo as interference and as a devious plan by the Western nations to undermine its sovereignty.
Prime Minister Manmohan Singh yesterday told Parliament that India is "inclined to" vote in favour of the resolution.  
The Congress-led UPA government is under huge pressure from its ally, the DMK, which has warned that it could withdraw its ministers from the cabinet if India either abstained or supported Sri Lanka during the vote.