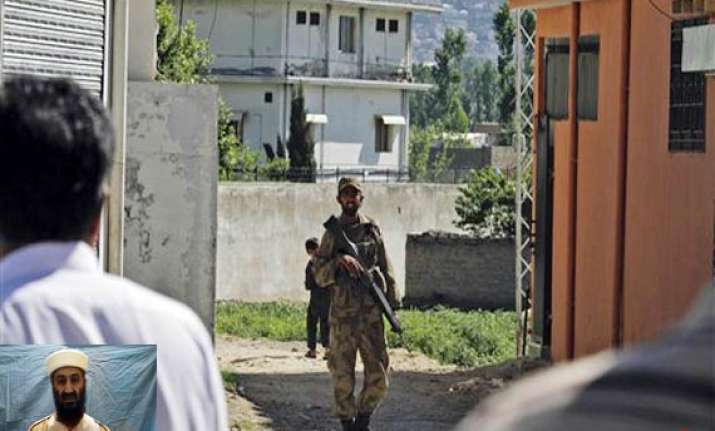 Lahore, May 8: In a fresh revelation, yet to be verified, relating to the events surrounding Osama bin Laden's death, an Afghan intelligence agent has told the Pakistani newspaper The Nation that the terror mastermind blew himself up as the US Special Forces commandos burst into his room, guns on the ready.

The intelligence agent disclosed on condition of anonymity, that the aged terrorist had a suicide bomb with him which he detonated as soon as  the US Navy SEAL commandos entered his room in the mansion in Abbottabad.

It is an irony of fate that  Osama Bin Laden, the man who introduced suicide bombing in Pakistan in the mid 90s, blew himself up to avoid capture soon after the US special forces (SEALs) launched the late night raid at a compound in Abbotabad on Monday, says the report.

The Nation report said, Laden's body was blown up into pieces after the suicide blast leaving no option for the US forces to  identify him.

The senior Afghan intelligence official said the Americans had planned to nab him alive. "But they miscalculated. Osama blew himself up to avoid capture," he said confidently but declined to give further details.

According to him, he had frequent contacts with the US special forces involved in the covert operation even before the action.

"The Americans had to conduct his DNA test that helped them establish his identity. So this is why US President Obama straightaway blocked the publication of his photos saying "they might act as incitement to additional violence. He (Osama) left himself unrecognisable and this is why the photos are too horrible to be published," the report says quoting a counter-terrorism expert.
 
The US officials claim that their forces shot him (Osama) dead, but the report points out that in case of gunshot killing the dead was left identifiable no matter how many times he was shot. The Americans claim they shot Osama in the head and chest. So why did not they show his mortal remains, questions the report.

Experts in India are sceptic about the credibility of The Nation report. They point out that such a report could be aimed at dousing public anger in Pakistan over the US forces killing Laden on Pakistani soil, and could be fed by the ISI, already embarassed by the daring nighttime raid.