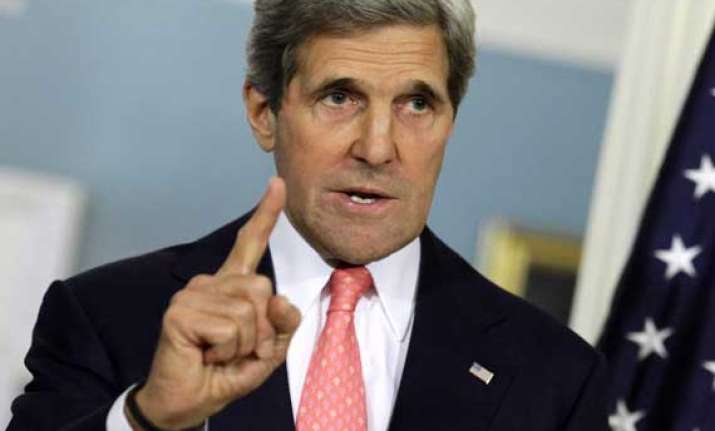 Washington: US secretary of state John Kerry has called Afghan President Hamid Karzai and asked him to address the concerns of individual candidates vying to succeed him, amid fears that a poll dispute could lead to instability.
Kerry stressed the importance of national unity and a peaceful political process during his call the Karzai yesterday, a state department spokesperson said.
The preliminary result of Afghanistan's presidential election run-off was delayed for days for a recount of ballots in 2,000 voting centres.
Afghans voted on June 14 to elect between former foreign minister Abdullah Abdullah and former World Bank economist Ashraf Ghani.
But the two candidates are at loggerheads, triggering fears that the election results could lead to protests and uncertainty in Afghanistan.
Kerry encouraged the Independent Election Commission to conduct a full and thorough review that ensures the Afghan people have confidence in the integrity of the electoral process, the spokesperson said.
"While the US does not support any individual candidate, we have long stated our support for a credible, transparent and inclusive process that is broadly supported by the Afghan people and which produces a president who can govern the country," the spokesperson said.
"We call on all sides to work toward this goal and to avoid steps that undermine national unity."
Earlier, the State Department urged both the presidential candidates — Ashraf Ali Ghani and Abdullah Abdullah — to remain engaged with the Independent Election Commission (IEC).
"We know there is a process here, and we have urged both sides to remain engaged with the electoral institutions who can ensure that all allegations of fraud are — brought to them are given careful and impartial review and adjudication," state department deputy spokesperson Marie Harf said.
"There are legal mechanisms for going through, receiving, investigating, and adjudicating these complaints, and we think that is an important process, even if it takes some time," she said.