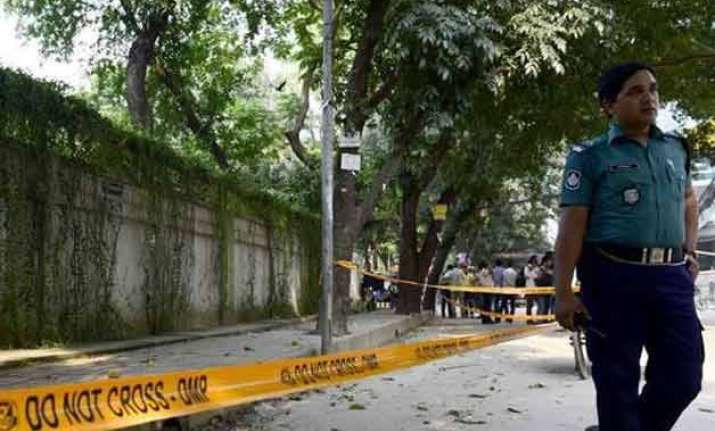 Dhaka: A 66-year-old Japanese national was today shot dead by motorbike-borne masked assailants in northern Bangladesh, days after an Italian aid worker was killed in an attack claimed by the Islamic State group.  
Hosi Koniyo was riding in a rickshaw when he was shot dead by unidentified gunmen in Rangpur district, police said.  
"It appears to be a target killing as the assailants in masks shot him thrice. The Japanese gentleman died instantly," officer-in-charge of the local police station Rezaul Karim told PTI. He said doctors declared him brought dead.  
The assassins, wearing masks, fled the scene on a motorbike.
The Japanese national, who was staying in Rangpur for the past six months, was headed to an agriculture farm on the outskirts of the city in a rickshaw when he was killed, eye witnesses said.
"Koniyo was alone in the rickshaw. They wore masks. As he reached the scene (they) shot him in the chest, shoulder and hand and then immediately fled the scene on a motorbike," said an eyewitness.
He said Koniyo was familiar in the neighbourhood because of his philanthropic activities and had set up the farm with a businessman.
The businessman, along with the rickshaw puller, Koniyo's landlord and another resident of the area, was briefly detained by police for questioning.
Police have set up check posts to track down the killers.  
The Japanese national's murder came five days after 50-year-old Italian aid worker Cesare Tavella was killed in a nearly identical attack in Dhaka's upmarket Gulshan area.  
Islamic State claimed responsibility for the fatal attack on Tavella. But Bangladesh government has downplayed the claim, describing it as an "isolated incident".  
Security officials, however, have not ruled out that IS could be using "local sympathisers" to carry out such attacks.  
Bangladesh, a secular country with a predominantly Muslim population, has been struggling to curb the rise of violence by hardline Islamic groups.
It has banned several groups that have been blamed for killing four bloggers this year.
Australia, Britain and the US have earlier issued travel advisories for their nationals intending to or on visit to Bangladesh. The Australian cricket team has also postponed their planned Dhaka tour over security concerns following Tavella's death.