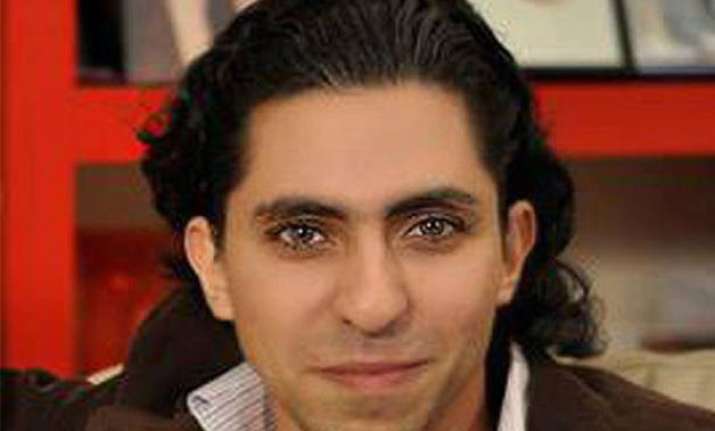 Brussels: A Saudi blogger sentenced to 10 years in prison and 1,000 lashes for insulting Muslim clerics has won the European Union's prestigious Sakharov Prize for human rights.
EU lawmakers said Thursday that Raif Badawi was honored with the award as a symbol of the fight for freedom of speech after a vote. The prize was to be announced publicly later in the European Parliament in Strasbourg, France.
The freedom of thought award is named after the Soviet scientist and dissident Andrei Sakharov. It was set up in 1988 to honor people and organizations defending human rights and fundamental freedoms.
Badawi was one of three nominees for the prize, along with the Venezuelan opposition movement Mesa de la Unidad Democratica, and assassinated Russian opposition leader Boris Nemtsov.
However, the imprisoned blogger is expected to receive the second 50 lashes of a 1,000-lash sentence soon, CNN quoted his wife in a report.
His wife, Ensaf Haidar, has said Badawi created the forum in 2008 in an effort to encourage discussion about faith.
Haidar, who has been granted political asylum in Canada appealed the incoming Canadian PM Justin Trudeau to help her husband. Trudeau has previously expressed support for Badawi.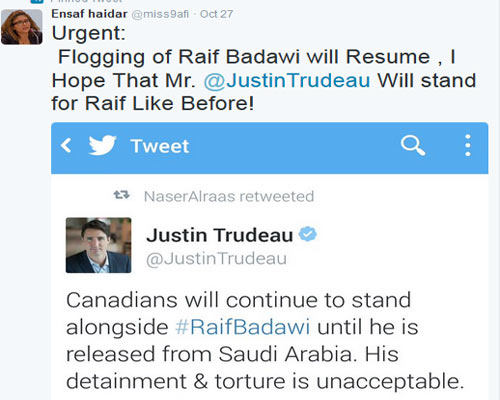 Haidar had earlier urged to Saudi King to show mercy towards his husband
"I call on his Majesty King Salman to gracefully end my husband's ordeal and to pardon him. I also appeal to his Majesty to allow him to be deported to Canada to be reunited with his family and children, who have been deprived of their father for more than four years," she said.
Blogger Raif Badawi has been behind bars since 2012 for his online posts and running a blog called "Saudi Arabian Liberals," where he hosted political and religious debate and advocated secularism in a highly religious society.
The lashings are to be carried out 50 lashes at a time, 20 weeks in a row. Badawi received the first flogging in January 2015, but since then, the punishment has been pushed back several times.
According to Amnesty International report, The second flogging was delayed eight days later after doctors determined that Badawi's injuries had not healed sufficiently for him to be flogged for the second time.