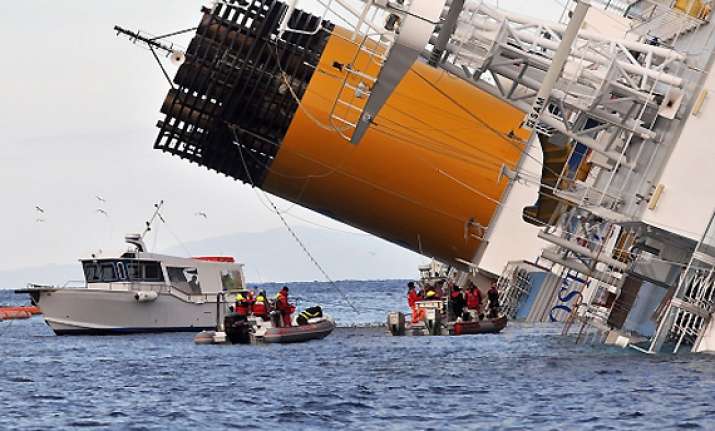 Giglio Island, Italy, Jan 18: The judge investigating the Costa Concordia disaster today said the captain had shirked his responsibilities, as divers halted the search for survivors on the increasingly unstable wreck.

Judge Valeria Montesarchio released captain Francesco Schettino from police custody into house arrest despite noting he made no "serious attempt" to rejoin the stricken vessel to take charge of evacuating the remaining passengers.

Rescuers were forced to suspend their search today as the vessel shifted. Emergency workers fear that the ship could slip from its resting place on a rocky shelf and slip into deeper waters.

"Instruments indicated the ship had moved, we are in the process of evaluating if it has found a new resting point to allow us to resume. For the moment we cannot even go near it," emergency services spokesman Luca Cari said.

Divers, mountain rescue teams and marines have recovered 11 bodies from the turbid waters of the half-submerged hulk in the days since Friday night's disaster.

Another 20 passengers and crewmen are unaccounted for, their relatives huddled in hotels in the area anxiously waiting for news of their loved ones.

Schettino—described by one Italian newspaper as "the most hated man in Italy"—faces years in prison on charges of multiple manslaughter and abandoning ship.

The fact that other crew and officers stayed on board to try to evacuate the passengers refuted the captain's claim that he could not oversee the operation from the vessel, Italian media quoted the judge as saying after she questioned him at length yesterday.

She said Schettino had made no "serious attempt" to get back on board his ship, "or even close to it", after leaving during the evacuation.