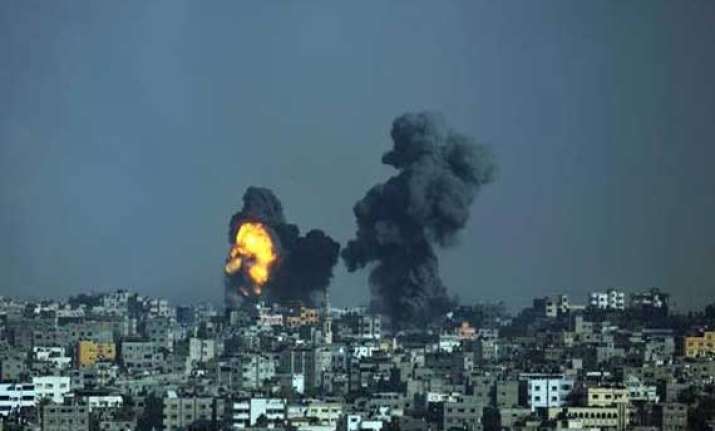 Gaza/Jerusalem: Israeli tanks today shelled a UN-run school in the Hamas-ruled Gaza Strip, killing 15 people and wounding dozens who took shelter there, amid frantic international diplomatic efforts to end the bloodshed that has left 770 Palestinians and 34 Israelis dead so far.
Israeli tanks shells hit a compound housing a UN school in Beit Hanoun in northern Gaza Strip, killing at least 15 people and wounding 200 others, Gaza health ministry today said on the 17th day of the war.
Reports said that pools of blood stained the school courtyard and the desks. Books and belongings were scattered and there was a large scorch mark in the premises marking the place where one of the shells hit.
The attack came amidst heavy fighting throughout the coastal territory between Israeli forces and Hamas militants.
Israel focused its attacks on southeast of Gaza, with residents fleeing areas which came under heavy bombing.
More than 70 people were killed in Gaza today, taking the overall Palestinian toll to over 770 since Israel launched its military offensive 'Operation Protective Edge' on July 8.
In another tragic incident, seven Palestinians were killed in a series of Israeli air strikes and tank fire in a flashpoint area near Khan Yunis in southern Gaza. The latest casualties included a family of six with two young children.
Israeli forces have destroyed at least 475 houses while 2,644 have been partially damaged. Some 46 schools, 56 mosques and seven hospitals had also suffered varying degrees of destruction, Palestinian officials said.  Thirty two Israeli soldiers, two civilians and a Thai worker in Israel have also been killed in the conflict. One other soldier remains missing, but is presumed dead.
As the death toll mounted, UN Human Rights Council yesterday ordered a probe into Israel's offensive on Gaza.
India along with Brazil, Russia, China and South Africa voted in favour of the Palestinian-drafted resolution on "Ensuring Respect for international law in the Occupied Palestinian Territories, including East Jerusalem".  Israel's close ally US was the only one of the 47 member states to oppose the probe supported by 29 countries.
Describing UNHCR as a "kangaroo court", Israel slammed the move as a "travesty".
"This investigation by a kangaroo court is a foregone conclusion," the Prime Minister's Office said.
Taking a dig at the UNHCR decision, Israel's Foreign Minister Avigdor Liberman labeled the UN body as the "council for the rights of terrorists".
Prior to the vote, UN High Commissioner for Human Rights Navi Pillay warned that Israel could be committing war crimes.