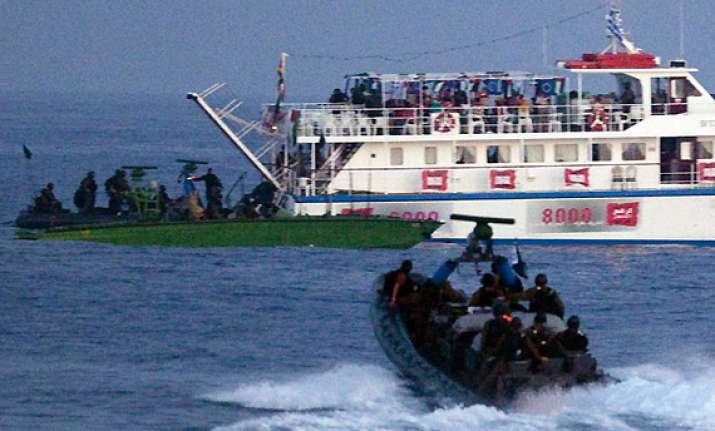 Jerusalem, Jun 13: In a scathing criticism, Israel's state watchdog today rapped hawkish Prime Minister Benjamin Netanyahu for the handling of a 2010 naval commando raid on a Gaza-bound Turkrish flotilla that left 9 activists dead and bilateral ties with Ankara in disarray.
"The decision making process regarding the dealings with the Turkish flotilla led by Prime Minister Benjamin Netanyahu and under his responsibility was found to include essential and significant flaws," the 153 page report on government's performance in the Turkish flotilla incident, by Comptroller Micha Lindenstrauss, has concluded.
"The Prime Minister's decision-making was made without proper coordination, documentation, or preparation, despite the fact that the government, the IDF's (Israel Defence Forces) top officers, and senior intelligence officials were all aware that the Turkish flotilla wasn't like the flotillas that preceded it," the report noted.
Lindenstrauss indicated that despite the fact that Netanyahu was well aware that the incident was highly irregular in its scope and was personally involved in the preparation for it, he hadn't internalised the fact that intercepting the flotilla with force could lead to a violent confrontation onboard the Mavi Marmara, leading to a large number of casualties.
The report points out that officials, including then Chief of Staff Gabi Ashkenazi, warned the government several times of the possibility of a violent response by the boat's passengers.
A few weeks before the flotilla set sail, Ashkenazi sent a letter to Netanyahu and Minister of Defence, Ehud Barak, in which he suggested the flotilla be thwarted by diplomatic means before resorting to use of force.