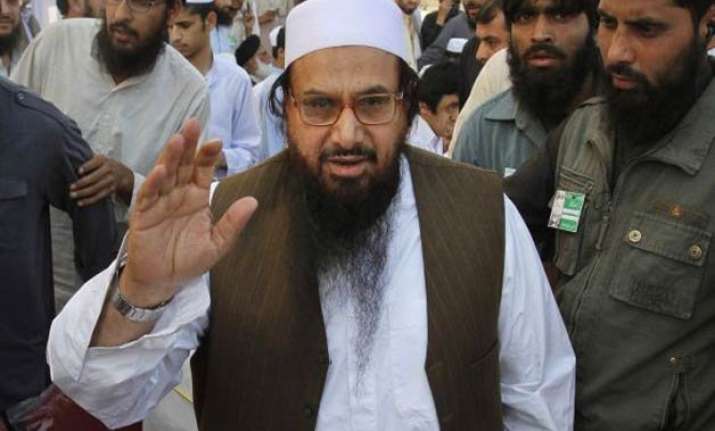 Lahore: Pakistan's move to freeze JuD's bank accounts and impose a travel ban on its chief Hafiz Saeed appears to be 'cosmetic' with an Interior Ministry official saying the outfit has no bank accounts in the country and the 26/11 attack mastermind's passport has already expired.
 
"There has been no bank accounts in the name of JuD in the country. Besides, Hafiz Saeed's passport had expired some seven years ago and he did not seek for its renewal. He last travelled to Saudi Arabia in 2006 to perform Haj," an official of Interior Ministry told PTI today.
Foreign Office spokesperson Tasnim Aslam had earlier said in a media briefing that Jamaat-ud-Dawa (JuD) and some other organisations had been "included in the sanctions list of the UN" and Pakistan, being a member of the world body, was obliged to act against such outfits.
She said the bank accounts of JuD had been frozen and international travel ban imposed on Saeed.  The decision appears to be cosmetic to give an impression to the world that the country is taking action against all extremist groups without any discrimination, analysts say.
 
The Interior Ministry official further said JuD and Saeed were added to the sanctions list by the UN Security Council in 2008 that requires freezing the assets and bank accounts and an international travel ban on the listed individuals.
 
The Punjab government in 2008 had taken the administrative control of the JuD headquarters in Muridkay, some 50 kilometres from Lahore, and has been allocating funds for it in its annual budget since then.
The government has not yet decided to close it.  On the other hand, Saeed and his outfits - JuD and Falah-e-Insaniat Foundation (FIF) - have been working in the country with impunity.
The JuD and FIF have set up camps in different parts of the country to collect funds for what they call "public welfare works".
Saeed has been travelling across the country without any restriction.