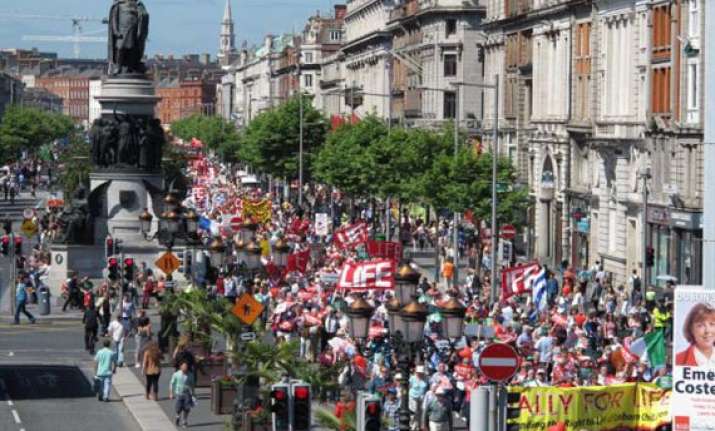 Dublin, Jul 12 : Irish lawmakers voted 127-31 on Thursday to legalize abortion for life-saving cases, including suicide risk.
The law comes in the wake of the death of a  woman of Indian origin who died after doctors in Ireland refused to perform an abortion, telling her that "this is a Catholic country".
This sparked widespread outrage and renewed calls for immediate reforms to the Irish law to allow termination if the life of the mother is at risk.
Savita Halappanavar (31), who was a dentist, was 17 weeks pregnant when she died from septicaemia, according to an autopsy carried out two days after her death on Oct 28, 2012.
Her family said she asked several times for her termination as she had severe back pain and was miscarrying but doctors at University Hospital Galway refused on the grounds that abortion was illegal in Ireland.
Her husband Praveen Halappanavar said he was certain that his wife would have still been alive if the termination had been allowed.
It was her first pregnancy, he said, and she was "on top of the world" before she started suffering back pain. When the pain persisted, she asked her consultant if she could be "induced" but was told "no".
"They said unfortunately she can't because it's a Catholic country. Savita said to her [consultant] she is not Catholic, she is Hindu, and why impose the law on her. But she said, 'I'm sorry, unfortunately it's a Catholic country,' and it's the law that they can't abort when the foetus is [alive]," he said.