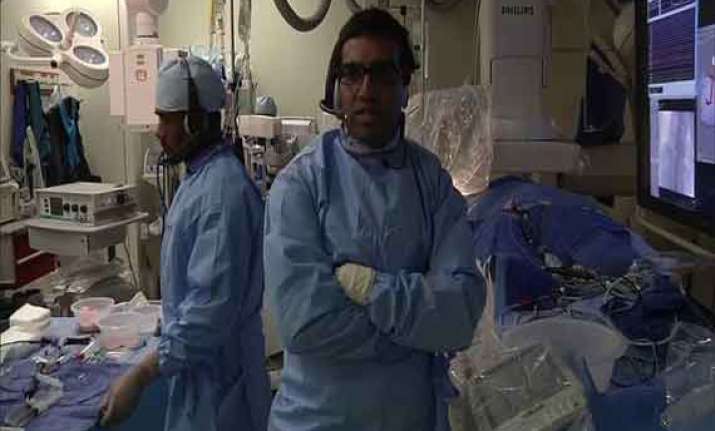 New York : This February during American Heart Month, Vivek Reddy, MD, of Mount Sinai Heart at The Mount Sinai Hospital implanted the United States' first miniature-sized, leadless cardiac pacemaker directly inside a patient's heart without surgery.
Vivek Reddy is of Indian origin and he is one of the US leading cardioelectrophysiologists.
Dr. Reddy  joined The Mount Sinai Medical Center as Director of Electrophysiology Laboratories.
Mount Sinai Heart is committed to developing groundbreaking therapies for cardiac patients.
The device implanted by Vivek Reddy from The Mount Sinai Hospital, resembles a small metal silver tube, and is only a few centimetres in length, making it less than ten per cent the size of a traditional pacemaker.
Dr. Reddy has implanted the leads-free pacemaker directly inside the heart during a catheter-guided procedure through the groin via the femoral artery.
The pacemaker, made by St. Jude Medical, is being tested for safety and efficacy in an international, multicenter clinical trial called LEADLESS II, which is planning to enroll 670 patients at 50 centers across the U.S., Canada, and Europe.
The leadless pacemaker is less than 10 per cent the size of a conventional pacemaker and is the least invasive pacing technology available today.
The small size of the device and lack of a surgical pocket, coupled with the exclusion of a lead, improves patient comfort and may reduce complications, including device pocket-related infection and lead failure.
The elimination of the visible lump and scar at a conventional pacemaker's implant site, in addition to the removal of patient activity restrictions that are routinely put in place in an attempt to prevent dislodgement or damage to a conventional lead, will potentially improve the quality of life for patients with this technology by allowing most to continue living active, uninhibited lifestyles.
This pacemaker received CE Mark approval in 2013 and is available in select European markets. The device is not available for sale in the US.