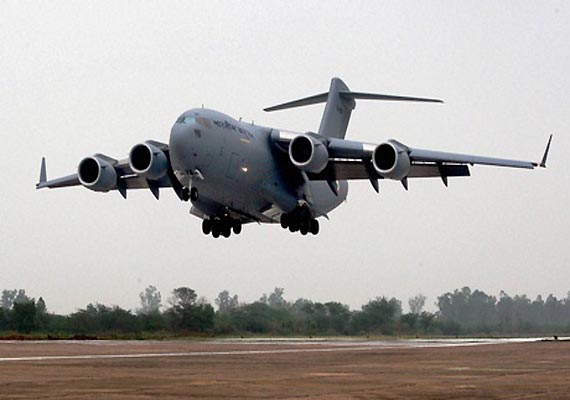 Washington, July 23: The Indian Air Force (IAF) has taken delivery of the second of its 10 Boeing C-17 Globemaster III heavy airlifters, a month after first arrived in the country and immediately began supporting IAF operations. The aircraft can operate in extreme climates, transport large payloads across vast distances and land on short, austere runways - and even reverse.
The IAF chief, Air Chief Marshal N.A.K. Browne, took delivery of the second C-17 at Boeing's manufacturing facility in Long Beach, California, on Monday and termed it as "an important milestone in the Indo-US global strategic partnership."
Like the first, the C-17 will also will immediately enter service. Once India receives its full complement of aircraft in 2014, it will be the largest C-17 operator outside the US.
In his speech, Air Chief Marshal Browne said India and US shared common values of freedom and peaceful co-existence and their belief in equality underpins a strong desire for international peace and stability.
"India and the United States are witnessing a defining phase in their relationship. Spurred by a convergence of interests, our nations have ongoing cooperation on a wide range of issues," an official release quoted Air Chief Marshal Browne as saying.
The IAF chief said that complementary strengths of India and the US provide a solid foundation for developing mutually beneficial strategic responses in the 21st century.
"Close bilateral military engagements form a crucial element in this global partnership. The growing defence cooperation has fostered greater understanding and appreciation about our commonalities as well as unique security imperatives," he said.
Air Chief Marshal Browne said that C-17 programme was an excellent example of "our multi-dimensional relationship".
He said the IAF has undertaken a major modernisation drive and the Globemaster was specifically chosen to address India's capability enhancement needs.
"Following the successful induction and operationalisation of C-130J Super Hercules, the procurement of ten C-17 aircraft will provide a tremendous boost to our strategic airlift capability," he said.
He lauded the US government for facilitating the Globemaster programme and thanked US Air Force for providing comprehensive training to the IAF crew.
The Globemaster project will see 30 pilots, 15 loadmasters and 96 technicians being trained on all aspects of operations and maintenance.
The IAF chief also complimented Boeing for honouring the delivery schedule and ensuring a fast-track induction plan.
"I am confident of Boeing's commitment to future timelines and I look forward to a strong professional association between Boeing and IAF. As we look at new areas of cooperation, I find tremendous potential in Boeing's capacity and expertise for IAF's ongoing capability enhancement," he said and referred to the IAF's steps towards helicopter modernization.
Boeing is on schedule to deliver three more C-17s this year and five in 2014.
"C-17s have an important role in supporting unique Indian Air Force operations in remote locations such as the Himalayas and desert environments," said Nan Bouchard, Boeing vice president and C-17 programme manager.
"The C-17 provides the versatility to complete any mission, anywhere. We look forward to working with the Indian Air Force and the US Air Force as we deliver the remainder of India's fleet," he added.
Boeing is supporting the IAF aircraft through the Globemaster III Integrated Sustainment Programme (GISP) Performance-Based Logistics contract.
The GISP "virtual fleet" arrangement ensures mission readiness by providing all C-17 customers access to an extensive support network for worldwide parts availability and economies of scale.
Boeing has delivered 255 C-17s, including 222 to the US Air Force, and 33 to Australia, Canada, India, Qatar, the United Arab Emirates, Britain and the 12-member Strategic Airlift Capability initiative of NATO and Partnership for Peace nations.
Air Chief Marshal Browne said that the C-17 had a proven track record and significant combat capabilities and its ability to be rapidly deployed over long distances with large payloads gives the IAF tremendous flexibility in supporting combat operations.
"The enhanced reach and versatility will support operations in an extremely challenging terrain that spans from the Himalayas in the north where we have bases at altitudes of 11,000-13,000 ft to sthe Indian Ocean region in the South," he said.
The IAF chief said that the aircraft will also be a crucial enabler in Humanitarian Assistance and Disaster Relief (HADR) due to its ability to operate from short landing strips.
Air Chief Marshal Browne is in the US on an official visit to boost defence cooperation between the two countries.