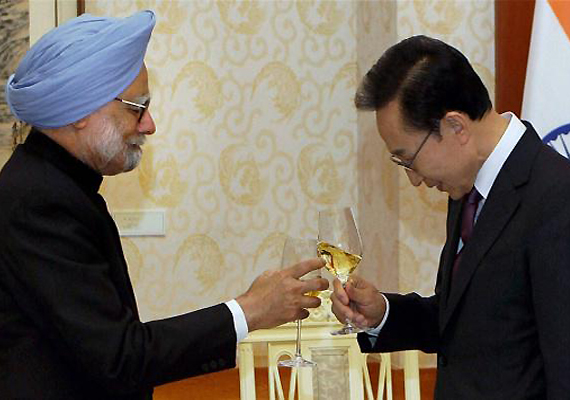 Seoul, Mar 25: Seeking to expand their strategic ties, India and South Korea today agreed to step up political and security cooperation, as they vowed to double the bilateral trade to an ambitious USD 40 billion by 2015.
"We agreed to expand our political and security cooperation," Prime Minister Manmohan Singh said after his talks with President Lee Myung-bak here.

"With this objective in mind, I informed President Lee of India's decision to position a Defence Attaché at our Embassy here in Seoul before the end of the year," he said, adding that these steps are being taken to add "substance to our (India's) Strategic Partnership. Ours is a partnership built on shared values that provide a firm foundation for further development," Singh said.

Noting that bilateral trade had risen by 65 per cent over the past two years since the implementation of the Comprehensive Economic Partnership Agreement, Singh said, "President Lee and I agreed that our strong economic ties are fundamental to our growing interaction.

"We have therefore set a new target of USD 40 billion by 2015. We also agreed to accelerate work in progress to upgrade the Agreement and make it more ambitious," Singh, who is on a four-day visit here to attend the Nuclear Security Summit.

In a joint statement released after the talks, the two leaders expressed grave concern about the continued threat of terrorism and piracy, emanating from various quarters.

"The two leaders expressed the hope that the Comprehensive Convention on International Terrorism, which was under consideration at the UN, would be adopted soon," the joint statement said.

India also joined South Korea in voicing concern over North Korea's plan to launch an 'application satellite', a move that is likely to escalate tension in the peninsula.

Singh and Lee also agreed to enhance cooperation and coordination on regional issues, including in the East Asia Summit process. The two-day nuclear summit begins tomorrow.

Singh and Lee also discussed ways and means to enhance cooperation between our scientists and technicians, including how to operationalise a joint Science and Technology Fund of USD 10 million.

"India has also offered to launch Korean satellites on Indian space launch vehicles," Singh said.

Singh also assured South Korean President Lee on the implementation of the USD 12 billion Posco steel project in Odisha. During the bilateral talks, Singh told Lee that there was progress on the Posco project, which has been dubbed as the single largest foreign direct investment in India.

"The two leaders also reaffirmed the importance of implementing the Posco project in the State of Odisha," said a joint statement issued after the talks.

Singh and Lee also shared views on the situation the Gulf, West Asia and North Africa and expressed concern at a number of flashpoints that could endanger peace and security in Asia and beyond.

The Prime Minister also invited Korean businessmen to invest in India in a big way and underlined that India was making a huge effort to upgrade its physical infrastructure.

"We want the Korean companies to help us realise this objective and benefit from the opportunities provided by this," Singh said.

Since the implementation of CEPA from January 1, 2010, bilateral trade had crossed USD 20 billion mark in 2011.  Today's announcement enhances the trade target set by the leaders to USD 40 billion by 2015 as against USD 30 billion by 2015 as decided earlier.

India and Korea also signed an agreement on simplifying visa procedures. This agreement will make travelling easier for business persons, the Prime Minister said.

Noting that companies such as LG, Hyundai and Samsung were already household names in India, Singh said he would like to see small and medium sized Korean companies also making India a base for their manufacturing.

Singh also updated his host of the development in the re-establishment of the Nalanda University and that he looked forward to Korean participation in the project.

Next year marks the 40th anniversary of the establishment of diplomatic relations between India and the Republic of Korea and the two countries also agreed to celebrate the occasion in a befitting manner.