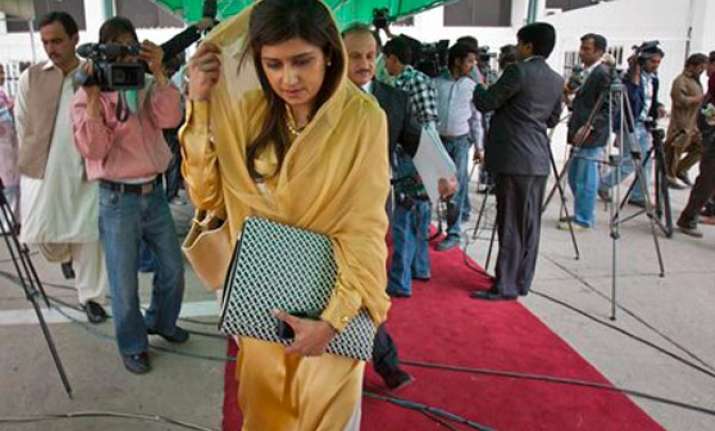 Islamabad, Mar 22:
After having invested "great deals" of energy and money in generating hostility against each other, India and Pakistan should now build trust to a level that allows them to resolve disputes and the "core issue" of Kashmir, Foreign Minister Hina Rabbani Khar said on Wednesday.
"We invested great deals of energy, time, effort and money to build hostility against each other. Instead if we adopt a road whereby, through the dialogue process, we can build trust to a level that we can solve these disputes between the two countries, (including) the core issue of Jammu and Kashmir, that might be a better way to go," she said. 
Pakistan's youngest and first woman Foreign Minister rejected the impression that the Kashmir issue had been set aside as Islamabad took steps to normalise relations with New Delhi.
During an interview with a TV news channel, she repeatedly asserted that the Kashmir dispute continued to be a "core issue" for Pakistan.
Khar acknowledged that Pakistan has "tried to change (the) road to solve the Kashmir dispute or other disputes that exist with India".
She said: "We have tried for 60 years by building animosity and hostility against each other, and we are as responsible for this as the Indians."
She admitted that there was a "trust deficit" and both countries had been in "negative territory". 
The trust deficit had now been taken "closer to zero" and the two sides need to build trust so that people in both countries get the impression that "serious issues can be resolved through dialogue", she said.
Khar listed the military standoff on the Siachen glacier and the Sir Creek boundary dispute as issues that were solvable.
The two countries should now start solving such issues so that they can build trust.
"Trust between states is important but trust between the two peoples is even more important," Khar remarked.  India and Pakistan resumed their peace process last year after a gap of over two years in the wake of the 2008 Mumbai attacks, which were blamed on the Pakistan-based Lashkar-e-Taiba terror group.
The two sides have taken rapid steps in recent months on normalising trade relations though little progress has been made on more sensitive matters like the Kashmir dispute. 
Pakistan today formally announced the switching over to a negative list regime for trade with India, paving the way for giving the neighbouring country Most Favoured Nation-status by the end of the year.
Khar made it clear that Pakistan had not backed out on the issue of giving India MFN-status, which is "likely" to be granted by December 2012.
At the same time, she sought to play down the issue, saying India was being given the same status as some 180 other countries. "No special treatment is being given to India, it is a step towards normalising trade relations with India."
The negative list was finalised after the Commerce Ministry's intensive interaction with all stakeholders over a year. The Industry and Textiles Ministries had expressed reservations when the negative list was first presented to the cabinet but it was subsequently approved by consensus, Khar said.
"We have steadfastly followed the course of action that was approved by the cabinet. There was no flip-flopping or (going) back and forth, that we decided something and moved back from it. The process is moving forward in the way the cabinet approved it," she added.
India and Pakistan were cooperating in the probe into the Mumbai attacks and a Pakistani judicial commission recently went to India, Khar said in response to a question. 
Asked about Pakistan's concerns over the sharing of river waters and dams being built by India, Khar said the Indus Waters Treaty of 1960 had the framework to resolve all such issues between the two countries.
The water issue had been discussed with the Indian side and President Asif Ali Zardari has a "special focus" on the issue, she said.
"India has repeatedly given us a commitment that they will fully abide by the treaty. Those issues which cannot be resolved bilaterally, we have gone to the International Court of Arbitration," Khar said.
The Foreign Ministry had also taken up the issue of reviving cricketing ties with India and the Pakistan Cricket Board is pursuing the matter, she said. 
Khar said she had been told by the PCB chairman that "they are not getting a proper response" from India. 
Khar listed improvements in cross-Line of Control trade and travel, normalisation of trade ties and the exchange of prisoners, especially fishermen, as other important confidence-building measures.
An "uninterrupted and uninterruptible dialogue process" will create confidence to push matters that were "stuck", she added.
Asked about the possibility of Indian Prime Minister Manmohan Singh visiting Pakistan, Khar replied: "We are hoping that in his term and our term, he will visit Pakistan."