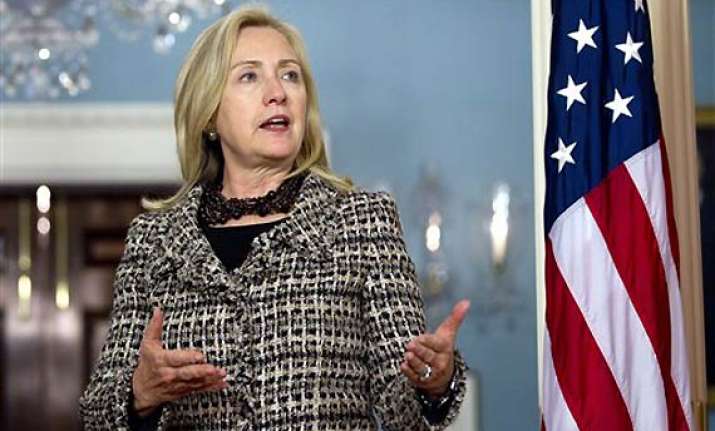 Washington, Oct 13: The US is making a strategic bet on India's future by viewing it as a "linchpin" in South, East and Central Asia despite "obstacles" in bilateral ties, Secretary of State Hillary Clinton has said.

Writing in the latest edition of the prestigious Foreign Policy magazine, Clinton noted that her boss, President Barack Obama, had told the Indian Parliament last year that the Indo-US relationship will be one of the defining partnerships of the 21st century, rooted in common values and interests.

However, she observed that "there are still obstacles to overcome and questions to answer on both sides, but the United States is making a strategic bet on India's future—that India's greater role on the world stage will enhance peace and security."

She also was confident that opening India's markets to the world will pave the way for greater regional and global prosperity and that Indian advances in science and technology will improve lives and augment human knowledge everywhere.

Further, India's vibrant, pluralistic democracy will produce "measurable results and improvements for its citizens and inspire others to follow a similar path of openness and tolerance."

"So the Obama administration has expanded our bilateral partnership; actively supported India's Look East efforts, including through a new trilateral dialogue with India and Japan; and outlined a new vision for a more economically integrated and politically stable South and Central Asia, with India as a linchpin," Clinton wrote, effusively.

Clinton also wrote that key emerging powers with which the US will work closely are India and Indonesia, two of the most dynamic and significant democratic powers of Asia, and both countries with which the Obama administration has pursued broader, deeper, and more purposeful relationships.

The stretch of sea from the Indian Ocean through the Strait of Malacca to the Pacific contains the world's most vibrant trade and energy routes, Clinton said. Together, India and Indonesia already account for almost a quarter of the world's population.

"They are key drivers of the global economy, important partners for the United States, and increasingly central contributors to peace and security in the region. And their importance is likely to grow in the years ahead," she said.