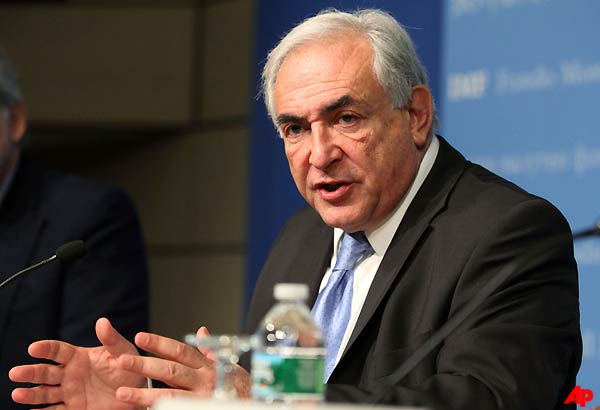 New York, May 15:  The head of the International Monetary Fund was hauled off an Air France plane at New York's Kennedy Airport on Saturday  and arrested  by NYPD on charge of trying to sodomize a hotel maid.

Dominique Strauss-Kahn, 62, nicknamed 'The Great Seducer' in France, was about to fly to Paris when police boarded the Air France jet.The maid was taken by police to a local hospital.

She told police she was asked to clean the spacious $3,000-a-night suite, which she was told was empty.She then alleges Strauss-Kahn emerged naked from a bathroom, chased her down a hallway, pulled her into a bedroom and began sexually assaulting her.

New York prosecutors confirmed that Strauss-Kahn has been charged with a criminal sexual act, attempted rape and unlawful imprisonment in the alleged sexual assault of a hotel maid in New York City, police said.Strauss-Kahn is expected to be brought before a state court judge later today.His attorney, Benjamin Brafman, said in an email he 'will plead not guilty'.

At 4.45pm yesterday plain clothes detectives from the New York Port Authority, which polices the airport, boarded the plane, Air France Flight 23, ten minutes before it was scheduled to leave, and took Mr Strauss-Kahn into custody.

He was taken to the offices of the Manhattan Special Victims Unit, which deals with sex-related crimes and was being questioned by detectives last night.John Sheehan, a spokesman for the hotel, said its staff were cooperating with the authorities in the investigation.

Strauss-Kahn, who is married to a leading French television news reporter, Anne Sinclair, had been considered a leading contender to run on the socialist party's ticket against President Nicolas Sarkozy in next year's French elections.

On Saturday far right presidential contender Marine Le Pen said his bid for the top job was now 'doomed'.But he has been dogged by scandal.

In 2008 he was embroiled in controversy over accusations that he had had a sexual relationship with one of his subordinates, Piroska Nagy, senior official in the IMF's Africa Department.The IMF hired a law firm to launch an investigation.


Nagy left the fund and joined the European Bank for Reconstruction and Development.He kept his job, though he later apologised for an 'error in judgment'.

Strauss-Kahn, who was rejected by the French Socialists as their presidential candidate in 2006, gained international recognition as France's finance minister from 1997-99.

He is credited with preparing France for the adoption of the euro by reducing its deficit and persuading then-Prime Minister Lionel Jospin to sign up to an EU pact of fiscal prudence.

A former economics professor, Strauss-Kahn joined the Socialist party in 1976 and was elected to parliament in 1986 from the Val-d'Oise district, north of Paris.
He went on to become mayor of Sarcelles, a working-class immigrant suburb of Paris.


Hours before Strauss-Kahn was pulled from the flight, a close Socialist Party ally claimed he was the target of a smear campaign by French President Nicolas Sarkozy.

'There is now a totally structured and orchestrated campaign, which has already been announced by Mr. Sarkozy and his closest allies, to attack the character of Strauss-Kahn,' Socialist politician Jean-Marie Le Guen told Europe 1 radio.

Formed at the end of World War II, the IMF provides low-cost loans to countries in financial crisis.After 2008, it became increasingly significant after brokering rescue packages for countries like Greece, Pakistan, Iceland, Hungary and Ukraine.