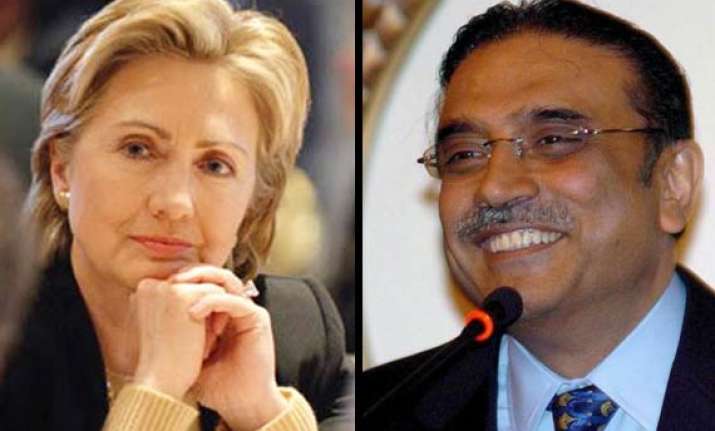 Islamabad, May 27: US Secretary of State Hillary Clinton called on President Asif Ali Zardari on Friday and discussed issues related to security and the Pak-US ties in the current scenario. The one-on-one meeting held at the President House lasted for half an hour which was later followed by the delegation level talks, a President House official said.

Prime Minister Syed Yusuf Raza Gilani, Chief of the Army Staff General Ashfaq Pervaiz Kayani, DG ISI Lt General Ahmed Shuja Pasha, Minister of State for Foreign Affairs Hina Rabbani Khar and Foreign Secretary Salman Bashir joined the delegation -level talks.

Chairman of the US Joint Chiefs of Staff Admiral Mike Mullen and US ambassador in Pakistan Cameron Munter represented their country.

Earlier Hillary Clinton arrived here this morning on a day-long visit. Her visit was not announced in advance.

Clinton, in her meeting with top Pakistani civilian and army leadership, assured them of US support at a tense session that meant to repair badly frayed relations after the killing of terror mastermind Osama bin Laden.

Clinton told President Zardari and other officials that the US maintains "very strong support for the relationship and our commitment to working with and supporting Pakistan."

The United States wants to soothe nerves and hurt feelings following the raid nearly a month ago by US Navy SEALs on bin Laden's compound, a strike that was kept secret even from Pakistan's top Army and intelligence officials.

But Clinton and Mullen also were telling Pakistan it must show renewed commitment to US security interests, chiefly to eradicate safe havens for militants who attack US forces in Afghanistan.

The United States has a "set of expectations" it wants the government in Pakistan to meet, including in combating terrorism, Clinton said on Thursday.

The government has demanded that some US military counter terror trainers leave the country. Pakistani leaders also have done little to tamp down anti-American fervor following the bin Laden raid, and at times have appeared to whip it up.

The US has been quietly helping train Pakistan security forces in the northwest, but that cooperation has faltered after the bin-Laden raid.