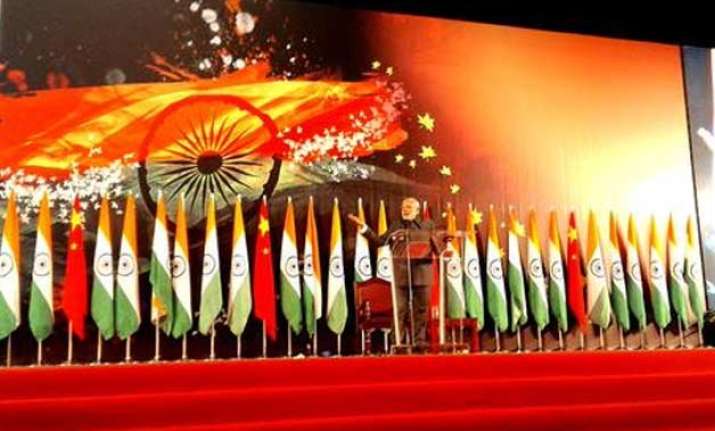 Shanghai: Prime Minister Narendra Modi today addressed more than 5000 people at the Indian Community Reception in Shanghai.
Today is the last day of Modi's three-day visit to neighbouring China.
Highlights of Modi's speech:
2016 is the year of China coming to India. Just like 2015 was the year of India visiting China.
The best part of my visit were the meetings I had with the youth, at two different functions.
It seems there is a mini-India right here in front of me, in Shanghai.
India and China represent one third of humanity. Together we can be a force of good for the entire world. Imperative that we increase people to people contact between India and China.
People trust me more because this is the 1st year of a full majority government, and we have done a lot of work. Every moment of my time is for the 125 crore people of India.
World is our family, we're all brothers. Languages may be different, the eyes, the nose and the complexion too may be different.
The world is watching as India and China together are standing up to give a new hope to the world.
Today everyone in the world will be surprised that Indians in China are living in such a loving and peaceful manner.
Times have changed. Therefore China and India together hold the potential to help the world with the problems it faces.
Last year this time the world reverberated - 'dukh bhare din beetay re bhaiya'. I had not imagined that a year later on the same day (16th May) I would get an opportunity like this.