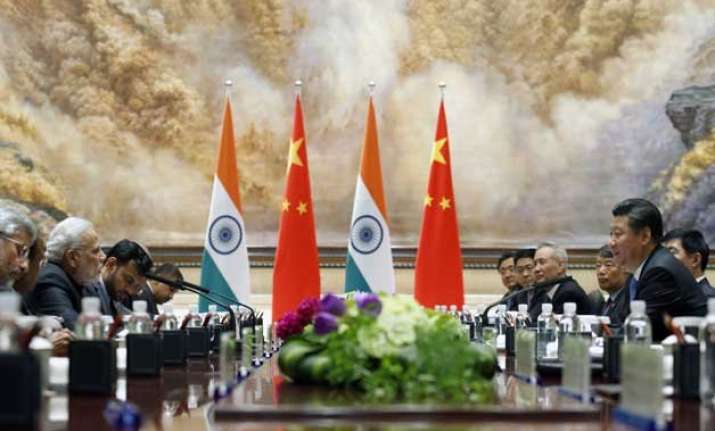 Prime Minister Narendra Modi met Chinese President Xi Jinping on Day 1 of his three-day China visit. He was accorded traditional welcome upon his arrival in the city of Xi-an.
The Prime Minister is accompanied by National Security Advisor Ajit Doval, Foreign Secretary S Jaishankar and senior officials. 
In the summit level talks here, the issues like international border, trade deficit and connectivity issues were discussed.
The two leaders, who held talks at the Shaanxi Guest House for about 90 minutes, later visited the Wild Goose Pagoda together. They shook hands, posed for photographs and also exchanged special gifts.
Here are the highlights of Narendra Modi – Xi Jinping summit-level talks:
• In his opening remarks, Modi appreciates the Chinese leader for warmly receiving him outside Beijing. "This is an honour to 125 crore Indians whom I am representing as Prime Minister," says Modi. Recalling his visit to Ahmedabad in September last year, President Xi said, "You received me very warmly in your hometown. I am very glad to receive you in my hometown." 
While Modi spoke in Hindi, Xi made his remarks in Chinese.
• PM Modi and the Chinese leader held wide-ranging and detailed talks. Mentioning that atmosphere was very comfortable, Jaishankar says the two leaders discussed various aspects of bilateral issues and the meeting very substantive: Foreign Secretary S Jaishankar 
• There was a discussion on strengthening trust and increasing convergence, says Jaishankar, adding trade deficit and investment climate were also discussed: : Foreign Secretary S Jaishankar 
• Some time was spent on discussing connectivity issues: Foreign Secretary S Jaishankar 
• Prime Minister raised India's concern over China's plans for infrastructure projects in Pakistan Occupied Kashmir. India had earlier formally objected to China routing an economic corridor through PoK. 
• Boundary and water issues were discussed during bilateral meet between PM Modi and the Chinese President: Foreign Secretary 
• PM Modi and Xi discussed terrorism and the need to share information between the two nations: S Jaishankar 
• There were also talks on India and China's response to the crisis in Nepal following earthquake and in Maldives over water problems: S Jaishankar 
 
• UNSC reforms and India's Nuclear Suppliers Group (NSG) membership were also discussed between the two leaders today: Foreign Secretary