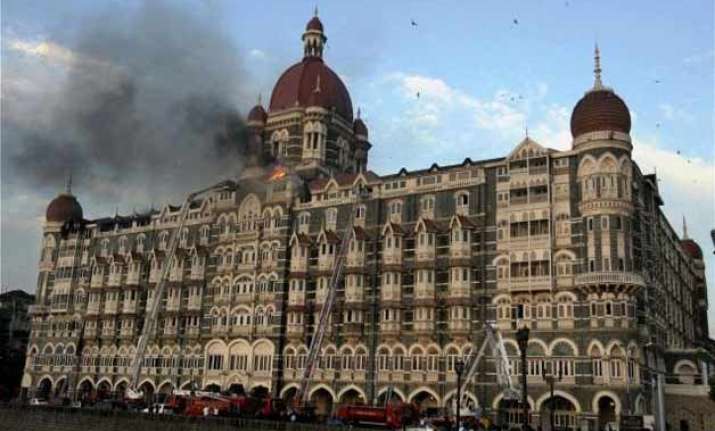 Lahore: A Pakistani anti-terrorism court holding the trial of seven accused in the 2008 Mumbai attack case today adjourned the hearing till next week after it failed to record the statements of two witnesses as the case document could not be produced before it.
"Two witnesses - a private and an official of Federal Investigation Agency - arrived here from Karachi to record their statements but the judge of the Anti-Terrorism Court Islamabad adjourned the hearing till April 30 as the record of the case could not be produced in the court," Prosecution chief Chaudhry Azhar told PTI after the hearing.
The hearing held at the Adiala Jail Rawalpindi. The judge reissued summons to the two witnesses to appear in the court next hearing on April 30 and also directed provision of the case record by then.
"The case record was supposed to be submitted to the trial court after the Islamabad High Court (IHC) gave a two-month deadline to it to conclude the Mumbai case," Azhar said, expressing surprise as why the IHC officials sent back the record of the case to the trial court despite the IHC judge's order.
The Mumbai case record was transferred to the IHC in the first week of January when the federal government challenged the bail to LeT operations commander Zaki-ur-Rehman Lakhvi.
The Mumbai case hearings virtually could not be held after the trial court granted bail to Lakhvi on December 14, 2014 on the pretext that the case record was lying with the IHC.
On the last hearing on April 15, the trial court had summoned five witnesses. Of them two appeared today.
On April 13, a division bench of IHC headed by Justice Noorul Haq Qureshi gave a "two-month deadline" to the trial court to conclude the Mumbai case against LeT operations commander Lakhvi and six others otherwise it would cancel the bail to the mastermind of the attack.
On April 10, the Adiala Jail Rawalpindi released Lakhvi after the Lahore High Court suspended his detention under a security act. Justice Muhammad Anwarul Haq of Lahore High Court on April 9 had suspended the Punjab government's order to detain Lakhvi under Maintenance of Public Order as it failed to present "sensitive evidence" against him.
The Punjab government has already challenged the LHC decision to suspend its order to detain him under the security act in the Supreme Court.
Meanwhile, a district and sessions court Islamabad has also acquitted Lakhvi in the abduction case of an Afghan national, Anwer Khan.
Lakhvi, Abdul Wajid, Mazhar Iqbal, Hamad Amin Sadiq, Shahid Jameel Riaz, Jamil Ahmed and Younis Anjum have been charged with planning and executing the Mumbai attack in November, 2008 that left 166 people dead. The case has been pending since 2009.