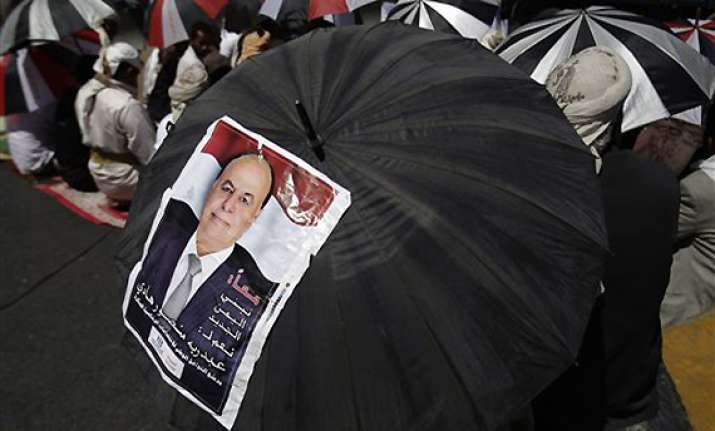 Sanaa, Feb 20: Gunmen attacked two polling stations and killed one soldier in Yemen's restive south Monday, one day before the country is to go to the polls to rubber stamp its vice president as the new head of state.

Also Monday, al-Qaida linked militants killed two soldiers outside of a city controlled by jihadists.

The attacks underline the security vacuum in the Arabian peninsula's poorest country after a one-year popular uprising seeking to oust longtime President Ali Abdullah Saleh.

Under a U.S.-backed deal brokered by Yemen's Gulf Arab neighbors, Saleh's deputy, Abed Rabbo Mansour Hadi, is to become president after a vote Tuesday in which he is the only candidate.

Posters and huge banners brandishing Hadi's photo and urging Yemenis to vote have appeared throughout the capital Sanaa as the vote approaches. Thousands of people attended an electoral rally early Monday in support of the vice president.

Hadi, a low-profile figure who has served under Saleh for years, did not attend the event and has rarely addressed the public. Still, many Yemenis who originally opposed the deal that will bring Hadi to power now support the move merely because it will officially end Saleh's 33-year rule.

Security has collapsed across Yemen during the uprising, with security forces regularly using lethal force against protesters and clashing with various armed groups. The U.S. and Saudi Arabia have struggled to ensure a smooth transition in hopes that Yemen will continue to cooperate in fighting the country's al-Qaida branch, which has carried out attacks in the U.S.

Two Yemeni soldiers were killed in a gunfight with al-Qaida militants near the city of Zinjibar, security officials said. Militants seized control of the town last year, exploiting the country's unrest.

Other violence appeared motivated by opposition to the vote, the officials said.

In the central town of Daleh, one soldier was killed in a shootout with gunmen associated with a group calling for independence for Yemen's south.

In the port city of Aden, gunmen fired a rocket-propelled grenade at a polling station, then fled. No one was hurt, and police are searching for suspects.

And in the southern province of Shabwa, armed men raided a polling station in the town of Ataq, expelling the election workers and occupying the building, officials said.

The attacks appeared unrelated, security officials said, speaking on condition of anonymity under security protocols.