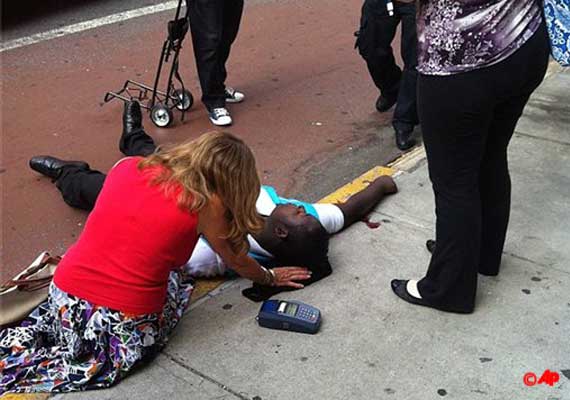 New York, Aug 24: A recently fired store worker shot a former colleague to death Friday morning outside New York's iconic Empire State Building and then randomly opened fired on people nearby, two law enforcement officials said.
Police said eight others were hit by gunfire, but those injuries were not believed to be life threatening.
The law enforcement officials said the gunman previously worked at a store inside the skyscraper at the heart of Manhattan. The officials spoke on condition of anonymity because they were not authorized to publicly discuss the matter.
Federal officials said the 9 a.m. (1300 GMT) shooting wasn't related to terrorism.
The shootings occurred at the height of the summer travel season and just after the morning rush hour.
Construction worker Chris Ogden told the Daily News tabloid he was working on a scaffold above one entrance to the building when he saw someone in a suit and carrying a briefcase start shooting.
"He shot the guy in the head," Ogden told the newspaper. "The guy went down. He took a second shot when he was down."
Ogden said then casually walked away. "We were screaming from the top, `It's the guy in the grey suit!"' Ogden said.
Aliyah Imam told Fox 5 News television she was standing at a red light when a woman standing next to her fell to the ground. She said the woman was hit in the hip.
The gunman was "shooting indiscriminately at people," Imam said.
Resident Rebecca Fox, 27, said she saw people running down the street and at first thought it was a celebrity sighting. Then she saw a woman shot in the foot and a man dead on the ground.
"I was scared and shocked and literally shaking," she said.
A photo posted to an Instagram account belonging to a person identified as mr--mookie, an eyewitness, shows a victim, his head propped on the sidewalk and his body in the street, being helped by bystanders. The victim's identity and condition were not immediately known.
A body remained at the scene more than an hour after the shooting. Police scoured the area for bullets.
The Empire State Building anchors one of the city's busiest areas. The website for the building says about four million people visit the tower's observatory decks each year, and sidewalks outside the building bustle with people selling tickets for its attractions.
Many others are shoppers drawn to stores along both 34th Street and Fifth Avenue. The shooting occurred at their intersection.