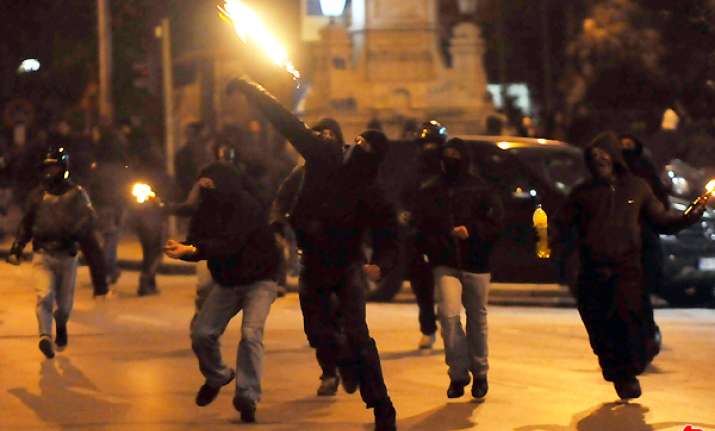 Athens, Nov 18: Masked youths clashed with riot police outside Greece's parliament and the US embassy on Thursday as thousands of austerity-weary Greeks marched through Athens in an annual commemoration of a bloody student uprising in the 1970s.

Police fired tear gas and stun grenades to disperse the rioters, and some 60 people were detained for questioning but no injuries were reported.

Some 28-thousand people took part in the march, according to police estimates, making it one of the biggest November 17 protests in years.

Seven thousand officers were monitoring the crowd.

With loan-dependent Greece heading for its fourth year of recession and saddled with record unemployment, the demonstration was the first test of public sentiment for the new coalition government of Lucas Papademos, a technocrat enjoying widespread popularity, according to polls.

Thursday's annual protest commemorates the squashing of a pro-democracy student uprising in 1973 by the military dictatorship that ruled Greece from 1967-74  -and whose backing from the US still rankles in the country.

But the embassy march has traditionally served as a vent for anti-government protests that often turn violent.

The clashes come a day after Papademos, a 64-year-old former central banker, easily won a confidence vote in parliament.

Papademos heads a coalition of the majority Socialists, conservative New Democracy and the small right-wing populist LAOS party, which has nationalist and anti-immigration roots.

He faces a daunting task in the 100 days until early elections in February.

As well as staving off looming bankruptcy by securing the country's next rescue loan instalment, his government must pass a new austerity budget - to be tabled in parliament Friday - and transform paper pledges of sweeping public sector reform into action.