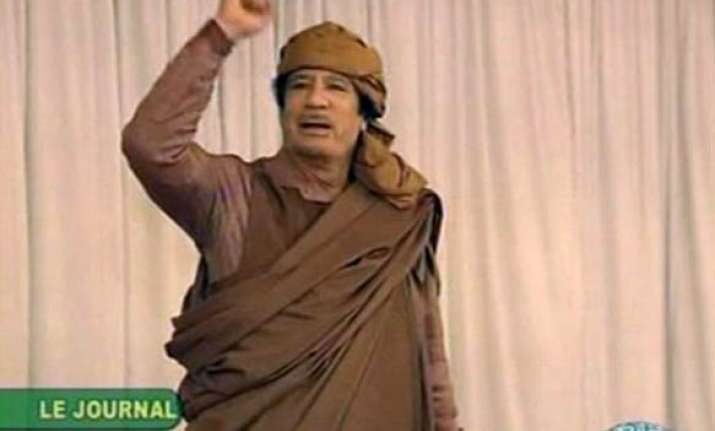 Tripoli, Feb 26 : Libyan dictator Muammar Gaddafi  has  appeared in Tripoli's Green Square, to exhort his followers to fight the rebels, reports Al Jazeera.
Addressing a  crowd of his supporters in the capital, Gaddafi said he was ready to provide arms and ammunitions to his followers to fight what he called "foreign aggression".
The speech, which also referred to Libya's war of independence with Italy, appeared to be aimed at rallying what remains of his support base, with specific reference to the country's youth, says Al Jazeera.
"We can defeat any aggression if necessary and arm the people," Gaddafi said, in footage that was aired on Libyan state television on Friday.
"I am in the middle of the people.. we will fight … we will defeat them if they want … we will defeat any foreign aggression.
"Dance … sing and get ready … this is the spirit … this is much better than the lies of the Arab propaganda," he said.
His last speech, on Thursday evening had been made by phone, leading to speculation about his physical condition.
The footage aired on Friday, however, showed Gaddafi standing above the square, waving his fist as he spoke.
Tarik Yousef, a senior fellow at the Brookings Institution in Washington, told Al Jazeera that most of the individuals on Green Square are genuine Gaddafi supporters.
"Most of these people have known nothing else but Gaddafi. They don't know any other leader. And many of them stand to lose when Gaddafi falls," Yousef said.
"I am not completely surprised that they still think that he is the right man for Libya. What is striking is that [Gaddafi] did not talk about all the liberated cities in his country.
"This was a speech intended show his defiance and to rally against what he calls foreign interference. But even his children have admitted that the east of the country is no longer under the regime's control."
Gaddafi's speech came on a day when tens of thousands of Libyans in Tripoli and elsewhere in the country took to the streets calling for an end to his rule.
Heavy gunfire
As demonstrations began in Tripoli following the midday prayer, security forces loyal to Gaddafi reportedly began firing on them. There was heavy gunfire in various Tripoli districts including Fashloum, Ashour, Jumhouria and Souq Al, sources told Al Jazeera.
"The security forces fired indiscriminately on the demonstrators," said a resident of one of the capital's eastern suburbs.
"There were deaths in the streets of Sug al-Jomaa," the resident said.
The death toll since the violence began remains unclear, though on Thursday Francois Zimeray, France's top human rights official, said it could be as high as 2,000 people killed.
But Saif al-Islam, Muammar Gaddafi's son, has called on the European Union to send a fact-finding team to Libya.
"We are not afraid of the facts. We are worried about rumours and lies," he said.
Violence flared up even before the Friday sermons were over, according to a source in Tripoli.
"People are rushing out of mosques even before Friday prayers are finished because the state-written sermons were not acceptable, and made them even more angry," the source said.
Libyan state television aired one such sermon on Friday, in an apparent warning to protesters.
"As the prophet said, if you dislike your ruler or his behaviour, you should not raise your sword against him, but be patient, for those who disobey the rulers will die as infidels," the speaker told his congregation in Tripoli.
During Friday prayers, a religious leader in the town of Mselata, 80km to the east of Tripoli, called for the people to fight back.
Immediately after the prayers, more than 2,000 people, some of them armed with rifles taken from the security forces, headed towards Tripoli to demand the fall of Gaddafi, Al Jazeera's Nazanine Moshiri reported.
The group made it as far as the city of Tajoura, where it was stopped by a group loyal to Gaddafi.
They were checked by foreign, French-speaking mercenaries and gunfire was exchanged. There were an unknown number of casualties, Moshiri reported, based on information from witnesses who had reached on the Libyan-Tunisian border.