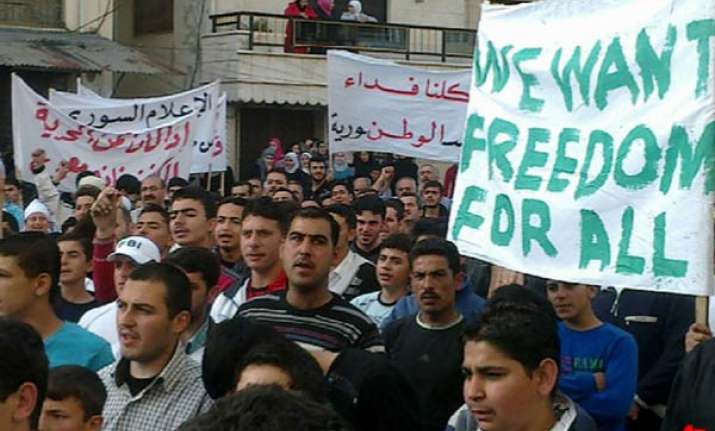 Damascus, Apr 17 : At least four people were killed and around 50 wounded when Syrian security forces opened fire on a funeral procession in Talbisseh near the central town of Homs yesterday, witnesses said.
Regime supporters also broke up two rallies in southern Syria, wounding five people after a presidential vow to end emergency rule within a week was dismissed as not enough and was followed by new protests.

In the country's major port, Latakia, around 10,000 people took to the streets late yesterday after the funeral of a protester killed on Friday, a rights activist told AFP.
Security forces "opened fire on a crowd of thousands of people" in Homs at the funeral of a man killed in the area the previous day, witnesses told AFP by telephone.
"At least four people were killed, but the toll could be much higher. There were also more than 50 wounded," one witness said.

Yesterday's protests followed a Saturday televised address by President Bashar al-Assad promising to end emergency rule, in force since 1963 when the Baath party took power, within a week.

Emergency law in force since 1963 restricts public gatherings and movement, authorises the interrogation of any individual and the monitoring of private communications and imposes media censorship.

In a televised address to the new cabinet charged with launching reforms, Assad also expressed his sorrow over the deaths of an estimated 200 people in a month of protests demanding greater freedoms.

"We are sad for all the people we have lost and all the people injured, and consider them all martyrs," he said in his address.

"The Syrian people are respectable. They love the regime and reject chaos," Assad said, and called for a national dialogue.

At least five demonstrators were wounded when regime agents dispersed two pro-freedom rallies in the south, bastion of Syria's Druze minority, rights activists said. 

Some 400 people had gathered to celebrate Independence Day in Suweida, said Mazen Darwish, director of the Syrian Centre for Media and Freedom of Expression. 

Demonstrators carried portraits of the leaders of the revolution that ended French rule and chanted slogans calling for freedom, he told AFP.

But regime backers cut short the rally, he said, beating protesters and trampling on portraits of Syrian revolutionary leaders who fought to end the French mandate. 

In the southern town of Daraa, nerve centre of more than a month of anti-regime protests, upwards of 4,000 people, including former political prisoners and religious leaders, staged another rally. (AFP)