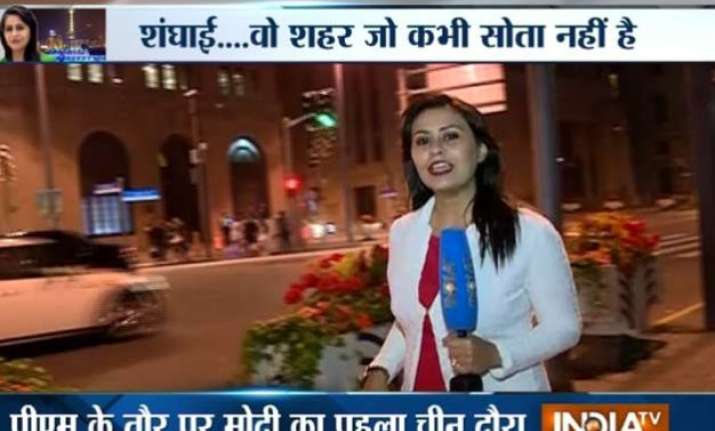 India TV has reached Shanghai ahead of Prime Minsiter Narendra Modi's three day China Visit.  This will be Modi's first China visit after he assumed the  office of Prime Minister of India. However, he had visited China during his stint as Gujarat's Chief Minister. Mr Modi will travel to Beijing, Shanghai and the historic northern city of Xian.
 India TV reporter Sucherita Kukreti visited Shanghai, China's financial capital , which has witnessed unprecendented growth in last two decades. Apart from its skyscrapers and business friendly environment, Shanghai is also said to be a city that never sleeps.
With a population of around 2 crore, Sanghai has one of the the best public transportaion system in the world. The metro stations in the city  are modelled like shopping malls that gives a  feel to the commuters. Unlike Delhi's metro there is no ticket counter available in Sanghai, commuters use automatic ticket vending machine  for tickets.
Besides Shanghai is also considered one of the safest in China , women here travel late nights without any fear.
The focus of his trip will be largely on business.  Modi will also meet the CEOs of major companies of the country. PM Modi will also address the Indian Community in China on May 16 in Shanghai. Prime minister is also slated to enjoy the famous skyline of Shanghai
Prime Minister last Monday joined Weibo, Chinese social media platform which has a user base of over 500 million and he has registered a strong 46,000 followers in just six days.  
PM will also visit Xian in Shaanxi province in north-western China, the hometown of Chinese President Xi Jinping, who wants to host Modi to reciprocate his reception in Ahmedabad last year.
Prime Minister Modi is likely to raise India's fierce objections to China's insistence on issuing visas on papers that are stapled to the passports of residents of Arunachal Pradesh instead of stamping them into passports.
According to sources, the PM is also expected to raise India's concerns about China's whopping $46 billion investment in an economic corridor which links Pakistan's strategic Gwadar port on the Arabian Sea with the Xinjiang province through Pakistan Occupied Kashmir.
Sources also say no substantive breakthroughs are expected on the decades-long border dispute between the two countries, though China is likely to be added to the list of countries eligible for e-visas in India, despite objections from intel and security agencies.