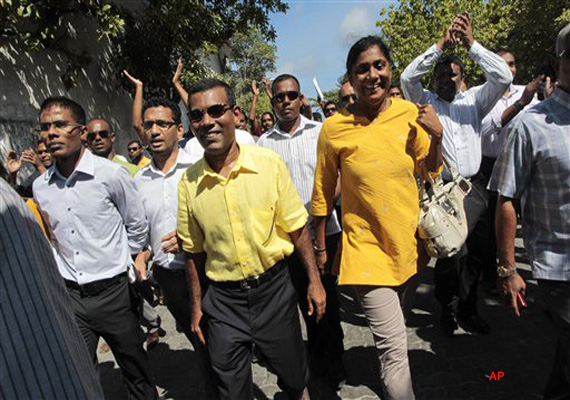 Male, Feb 9 : The Maldives' ex-president Mohammed Nasheed was injured on Wednesday  and briefly hospitalised after he was beaten by police during a rally of his supporters in the capital, his cousin said.

Mohamed Nasheed, who says he was forced from power yesterday in a bloodless coup, was injured along with several other members of his Maldivian Democratic Party, his cousin and fellow party member Eva Abdulla told AFP.

"He was beaten," she said. "He's safe now and back home."Reeko Moosa Manik, the chair of the MDP, was also admitted to hospital with head and back injuries after being beaten by police, a family member told AFP.

And former MDP chairperson Mariya Didi was also beaten, local media and Abdulla said.

Military spokesman Ibrahim Azim confirmed Nasheed had "received some small injuries because the crowds were huge and he has been taken to hospital".

Several thousand supporters chanting pro-Nasheed slogans clashed with police and troops in riot gear in central Male in the afternoon.

Stones were thrown by protesters at the police, who responded with multiple rounds of tear gas and were later seen by an AFP correspondent beating people with their batons.

"We strongly condemn the violent attack," the MDP said in a statement, calling on the international community to "assist us" in securing the release of those detained.

"We're not going to stop," said Mohamed Abdulla, an MDP supporter. "We'll just regroup and protest elsewhere.""These people have seized our power!" another protester shouted.

Nasheed had led the crowd into the square following a meeting of the MDP leadership, which passed a resolution calling the new administration of President Mohamed Waheed illegitimate.

In an exclusive interview with AFP, Nasheed insisted that he had been forced into resigning by a group of armed rebel police and army officers who had threatened a bloodbath if he refused.

He has been replaced as head of state by his vice president, Mohamed Waheed, who Nasheed suspects of conspiring in the alleged plot to overthrow him.