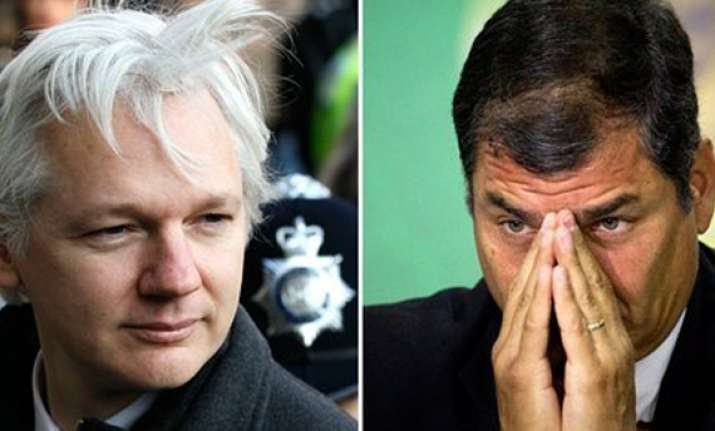 London, Jun23:  Ecuador's embassy in London said Saturday that ambassador Anna Alban was scheduled to travel to her country's capital for talks on the bizarre request for political asylum made by Wikileaks chief Julian Assange.
Assange took refuge inside Ecuador's embassy on Tuesday, and remains camped out in an office, as his legal options ran out for avoiding extradition from Britain to Sweden, where he is wanted for questioning for alleged sex crimes.
Ecuador's leftist President Rafael Correa has said his government is considering Assange's request, but has not indicated when a decision will be made.
A spokesman for the country's embassy, who requested anonymity to discuss the visit in advance, said Saturday that Alban would travel to Quito this weekend for talks on the matter.
Speaking Thursday from inside the embassy, Assange said he had made his bid for asylum becase the "Ecuadoreans were sympathetic in relation to my struggles." He had previously interviewed Correa, with whom he shares skepticism toward the United States.
Assange has been fighting since 2010 to avoid extradition to Sweden, where he is wanted for questioning over alleged sexual assaults on two women. Assange denies the claims, and says the case against him is politically motivated.
Both he and supporters insist that if he was sent to Sweden he would then likely become the target of a U.S. request to extradite him there over allegations linked to his leaking of hundreds of thousands of secret U.S. documents via the secret-spilling WikiLeaks website.
U.S. soldier, Pfc. Bradley Manning, a 24-year-old from Crescent, Oklahoma, has been charged with aiding the enemy by passing the secret files to WikiLeaks and is awaiting trial.
A Virginia grand jury is studying evidence that might link Assange to Manning, but no action has yet been taken.
"We are hoping what I am doing now will draw attention to the underlying issues," Assange told Australian Broadcasting Corp. radio in an interview Thursday.
Correa said his country would discuss the case with both Britain, Sweden and the United States before reaching a final decision.
While inside the embassy, Assange remains outside the reach of British authorities—but police are poised to arrest him the moment he steps foot outside the building.
Police said Assange will be arrested for breaching the terms of his bail, which included an overnight curfew at a registered address.