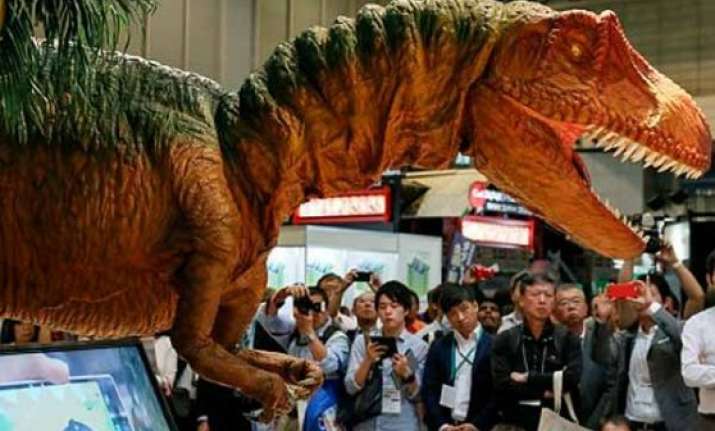 London: The secret to how different dinosaur species lived alongside one another in prehistoric ecosystems could be hidden within differences in diet based on their structural features and teeth arrangement, a research shows.
"Differences in diet between two dinosaurs would have allowed them to co-exist," said co-researcher David Button from the University of Bristol in Britain.
The sauropods - large, long-necked plant-eating dinosaurs such as Diplodocus and Brachiosaurus - dominated the land between 210 and 65 million years ago.
They were the largest land animals of all time, with the biggest weighing 80 tonnes (more than 11 elephants) and would have needed vast amounts of food.
Despite this, multiple sauropod species often lived alongside each other.
Using CT scans, the researchers digitally reconstructed the skulls of the sauropods Camarasaurus and Diplodocus, along with the jaw and neck muscles of both species from the traces left on the bones where these muscles were attached.
These two species are known to have widely co-existed.
"Our results show that although neither could chew, the skulls of both dinosaurs were sophisticated cropping tools," Button pointed out.
Camarasaurus had a robust skull and strong bite, which would have allowed it to feed on tough leaves and branches.
Meanwhile, the weaker bite and more delicate skull of Diplodocus would have restricted it to softer foods like ferns.
The researchers also used a series of biomechanical measurements from other sauropod species to calculate the functional disparity in their skulls and jaws and found that other sauropods were also highly varied in feeding adaptations, suggesting different diets.
The findings appeared in the journal Proceedings of the Royal Society B.