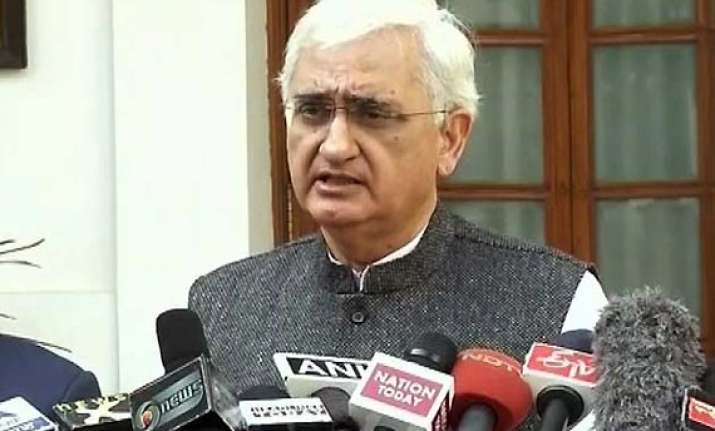 New York: Days after agreeing on joint development and production in the field of defence with the US, India has said the first-of-its-kind of initiative with America will add "more muscle" to the bilateral strategic partnership but it is not at the expense of traditional friend Russia.
External affairs minister Salman Khurshid said the defence cooperation between India and the US has been at a lower level despite the two countries having engagement in a wide range of areas and it will be upgraded by the Defence Declaration issued after meeting between Prime Minister Manmohan Singh and President Barack Obama last week.
"I think, it gives major substance to our strategic partnership," he told the PTI in an interview here about the decision under which the two countries will undertake joint development and production of defence equipment with transfer of technology from the US.
"It (joint defence declaration) gives more muscle (to India-US relationship), gives it more content, more strength and I think it gives it more traction," said Khurshid, who was part of the Indian delegation in the summit meeting between Singh and Obama in Washington on September 27.
Noting that there are many dimensions to the India-US strategic partnership, he said, "Nuclear co-operation is one major initiative. The defence co-operation which was substantive but at a lower level, has now been raised to a higher level, is another dimension of our strategic partnership."
The decision came against the backdrop of America's wish to "replicate" Russia in joint development of defence equipment with India like Brahmos missiles.
Asked whether this could create apprehensions among India's old defence partners like Russia, Khurshid asserted that this initiative with the US is not at the expense of those already having ties in this area.
"Everybody knows that we have to diversify and expand. But we do not do this at the cost of traditional friend of ours. There is massive co-operation between India and Russia, which continues apace," the minister said, adding "that is not going to be affected".
He pointed out that Russia too deals with the US. The declaration spells out the intent for enhancing partnership in defence technology transfer, research, co-development and co-production.
"The two sides look forward to the identification of specific opportunities for cooperative and collaborative projects in advanced defence technologies and systems, within the next year," the joint declaration on Defence Cooperation said.
The two countries share common security interests and place each other at the same level as their closest partners, it said.
The same principle will apply with respect to defence technology transfer, trade, research, co-development and co-production for defence articles and services, including the most advanced and sophisticated technology, it said.
The declaration said the both countries "will work to improve licensing processes, and, where applicable, follow expedited license approval processes to facilitate this cooperation. The US and India are also committed to protecting each other's sensitive technology and information".