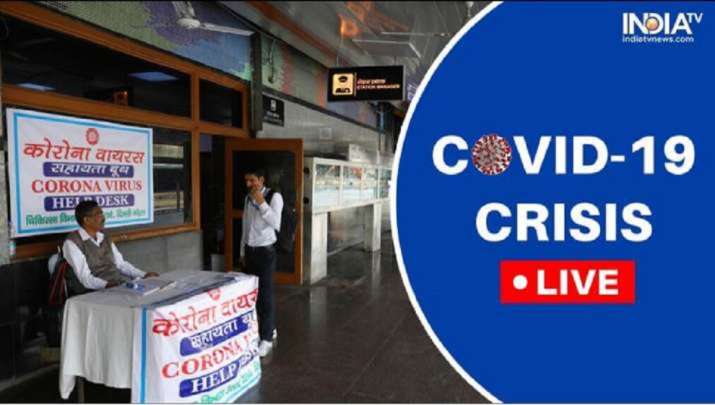 Coronavirus Crisis April 3, 2020 | As things unfolded
Coronavirus cases in New Delhi increase to 386. 2 More deaths recorded.
67 new cases detected in Maharashtra. The number of infections hits 490. Death toll rises to 26.
Total number of coronavirus infections hits 2547. Out of these 162 have been cured/discharged while 62 are dead.
3 more coronavirus infections in Odisha. State tally comes to 9.
"Each day is crucial for battle against coronavirus," says PM Modi on Twitter.
Everyday is crucial in the battle against COVID-19.

Everyday we need to be strong.

Everyday we need to be together.

Everyday we need to take the right precautions.

Everyday we need to be self-disciplined. #IndiaFightsCorona https://t.co/EHessV8oWc

— Narendra Modi (@narendramodi) April 3, 2020
12 new coronavirus cases in Lucknow.
Chhatisgarh CM Bhupesh Baghel: 107 returned to the state after attending Tablighi Jamaat event in Delhi. Samples of over 50 out of them have been taken. 28 of them have been found positive for coronavirus.
Punjab Police detains 11,100 people in Ludhiana for breaking lockdown guidelines.
Uttar Pradesh government has said that 1203 people who attended Tablighi Jamaat in Delhi have been identified. Samples of 897 of these people have been sent for testing and 47 have been tested positive so far.
Navi Mumbai: 6 CISF jawans found positive for coronavirus.
"Trauma centre in Ram Manohar Lohia hospital to function as dedicated COVID-19 ward," says Union Health Minister Harsh Vardhan.
Karnataka: 4 new coronavirus infections detected today. Three out of these are from Tabligh-e-Jamaat.
Tamil Nadu: 411 coronavirus patients in total, 364 out of these are from Tabligh.
India's oldest (93 years) coronavirus survivor and his wife have been discharged from hospital: Kerala government.
Total number of coronavirus positive cases in Kerala is 295. Nine positive cases were found today out of which 3 had attended Tabligh-e-Jamaat event in New Delhi: Kerala CM Pinarayi Vijayan.
Total number of cases in state has risen to 166. This includes 29 cases due to Tabligh event: Rajasthan
Jharkhand government constitutes task force to monitor working of COVID-19 committees. Chief Secretary Sukhdev Singh to be chairman.
US sheds 701,000 jobs, ending a record-long hiring streak
One more person evacuated from Markaz has died due to COVID-19, total number of deaths stands at 5: Kejriwal.
Two COVID-19 patients in Delhi are on ventilator support: Kejriwal
Delhi govt has launched WhatsApp helpline - 8800007722 for people to enquire about COVID-19, food shelters, others: Kejriwal.
From yesterday till today 336 additional cases of COVID-19 have come before us. Total confirmed cases are 2301, 56 deaths have been reported: Lav Agarwal, Joint Secretary Health Ministry
Edgbaston stadium in the UK will become a COVID-19 testing centre, The Warwickshire County Cricket Club (WCCC) announces.
WHO says coronavirus is spread by respiratory droplets, not through air
Supreme Court officials contribute over Rs 1,00,61,989 to PM-CaresFund, to fight the coronavirus
Total number of COVID-19 cases in the state till now is 161 including 21 evacuees from Iran and 24 Tableeghi Jamaat (Delhi) attendees: Rajasthan Health Department
Odisha Government is going to impose complete lockdown in Bhubaneswar and Bhadrak for 48 hours from 8 pm today, to prevent community transmission of COVID-19: Odisha Chief Secretary Asit Tripathy.
Jama Masjid in Patna has been closed to avoid any further gathering that could lead to inflated COVID-19 cases. Policemen have been deployed at the gates and the whole area is empty.
Armed Forces running 6 quarantine facilities.1737 ppl have been handled at these centres, of which 403 have been released so far. 3 positive COVID19 cases were referred to Safdarjung Hospital in Delhi.15 other facilities being kept ready as standby if required:Ministry of Defence
No COVID-19 case reported in Bhilwara, Rajasthan in last 3 days. Till now, 13 out of 26 cases have come out negative in repeat tests. To break the chain of Coronavirus, curfew without relaxation has been imposed for 10 days in Bhilwara, from today.
12 more persons have tested positive for COVID-19 in Andhra Pradesh, taking the total number of positive cases in the state to 161.
Total number of COVID-19 positive cases rises to 2301 in India, including 156 cured/discharged, 56 deaths and 1 migrated: Ministry of Health and Family Welfare
The 1st COVID-19 positive case in Odisha, belonging to Bhubaneswar has recovered and tested negative; he is being discharged. There are 3 active cases of Coronavirus in the state now.
One 78-year-old person from Godhra who tested positive for COVID-19 and who was under treatment at a hospital in Vadodara, passed away last night.
I appeal to people to avoid gathering anywhere during this period. You don't have to go out on the streets and in the colonies, but do it from your doorsteps and balconies: Prime Minister Narendra Modi
I request all of of you to switch off all the lights of your house on 5th April at 9 PM for 9 minutes, and just light a candle, 'diya',  or mobile's flashlight, to mark our fight against coronavirus: Prime Minister Narendra Modi
Delhi: Two nursing officers at Delhi State Cancer Institution have tested positive for COVID-19. They have contact history with the doctor of the institution who tested positive on 1st April.
Two persons in Bikaner, who attended Tablighi Jamaat event in Delhi, have tested positive for COVID-19. Total number of cases stands at 140 in Rajasthan, including 2 Italians and 16 attendees of Tablighi Jamaat in Delhi.
Six persons out of 28 people from Agra who attended Tablighi Jamaat event in Delhi's Nizamuddin Markaz, have tested positive for COVID-19. Total number of positive cases rises to 18 in Agra, of which 8 have been discharged.
Donald Trump takes second COVID-19 test 'out of curiosity'. Tests negative
The global COVID-19 cases worldwide have now crossed a million while over 50,000 people have died. 
France has seen over 1,300 deaths in a single day due to COVID-19
Also Read | With over 1 million COVID-19 cases, world faces uphill task; over 1,300 die in France in 24 hours
​