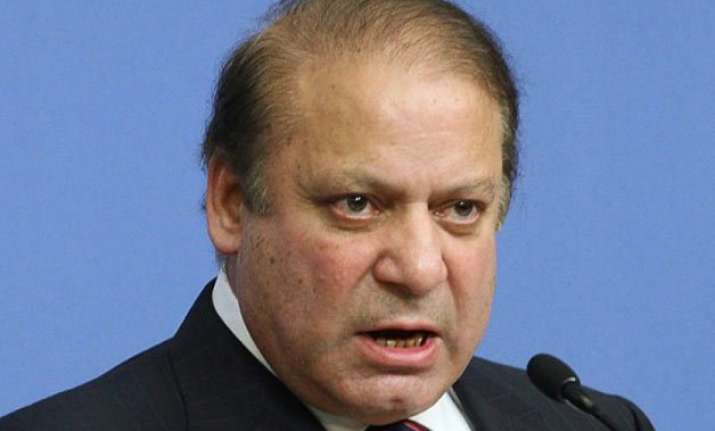 Islamabad: Pakistan Prime Minister Nawaz Sharif on Thursday said that Pakistan is committed to a just and peaceful resolution of the Jammu and Kashmir dispute; one which is based on UN resolutions.
"Pakistan reminds the international community of its responsibilities in the matter and urges it to fulfil its promise made to the people of Jammu and Kashmir 68 years ago," the premier said in his message on Kashmir Solidarity Day being observed yesterday.
In his address, Sharif noted that peace in the region would remain elusive until the resolution of the Kashmir dispute in accordance with the will of the people of Jammu and Kashmir.
Sharif further spoke about the support of Pakistan to the people of Indian-occupied Kashmir. "The government and the people of Pakistan reiterate their continued and steadfast political, moral and diplomatic support to the people of Indian-occupied Kashmir in their heroic struggle for their inalienable right to self-determination," he said in his address.
According to Sharif, India continues to deny the people of Jammu and Kashmir their rights which the international community had raised 68 years ago. Sharif also took a shot at India saying India refused the rights of the Kashmiris by refusing to implement the UN Security Council resolutions on Kashmir.
"The valiant people of Indian-occupied Kashmir had rendered unmatched sacrifices in their just struggle," he said, adding that "Indian brutalities and atrocities" had failed to deter the people of Kashmir from their "cause for freedom from Indian oppression".
Sharif further said that the people of Pakistan and freedom-loving people across the world saluted the Kashmiris for their courage, bravery and persistence in facing the worst kind of human rights abuse, violence and suppression by Indian security forces.
India, on its part, has repeatedly stressed that any dialogue on Kashmir will only revolve around the area which India believes is under the illegal occupation of Pakistan. "When you say what it is that India is going to discuss or what is it discussing, it is really, if you ask most Indians, and what is our position it is the part of that state which is still under the control of Pakistan," former Indian High Commissioner to Pakistan T C A Raghavan had said said during a lecture at the Centre for Security Studies, a private think-tank in the Pakistani capital.