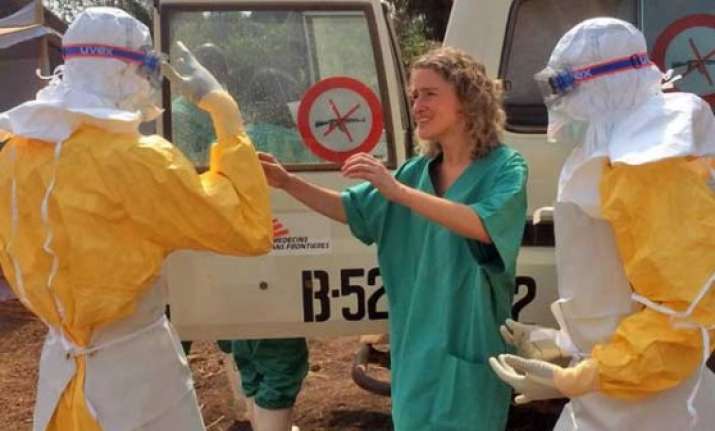 Beijing: Setting aside their strategic rivalry, the US and China today agreed to cooperate in stepping up efforts to control the raging Ebola epidemic in Africa.
Visiting Chinese State Councillor Yang Jiechi and US Secretary of State John Kerry, who met in Boston, agreed to enhance cooperation on fighting the Ebola epidemic, Chinese Foreign Ministry spokesman Qin Gang said.
Yang noted that Ebola, which continues to spread in West Africa, has become a threat to the public health and requires concerted efforts by the international community.
The United States and China have their respective advantages in fighting the deadly virus, Yang said.
China is willing to strengthen coordination and cooperation with the US as well as the international community to help the affected African countries, state-run Xinhua news agency reported.
Yang is currently touring the US to make preparations for President Barrack Obama's visit to Beijing next month. Obama will attend the 21-member Asia-Pacific Economic Cooperation (APEC) summit in China.
The two sides are currently in talks to workout broad areas of cooperation despite their strategic rivalry.
Washington and Beijing have recently shown differences of opinion on matters related to territorial disputes between China and its neighbours in the South China Sea, and ongoing protests in Hong Kong.
Yang said the Chinese government has been closely following the development of the epidemic, and has provided assistance to the affected African countries and relative international organisations, Yang said.
He said that China will continue to support and provide assistance to West Africa in its fight against Ebola, along with the development of the epidemic and the need of the affected countries.
Besides contributing USD 53 million worth of aide to western African countries to fight Ebola, China has also sent teams of doctors to the affected countries to combat the disease.
China has also published a book on preventing and treating common diseases in Africa, highlighting the Ebola virus.