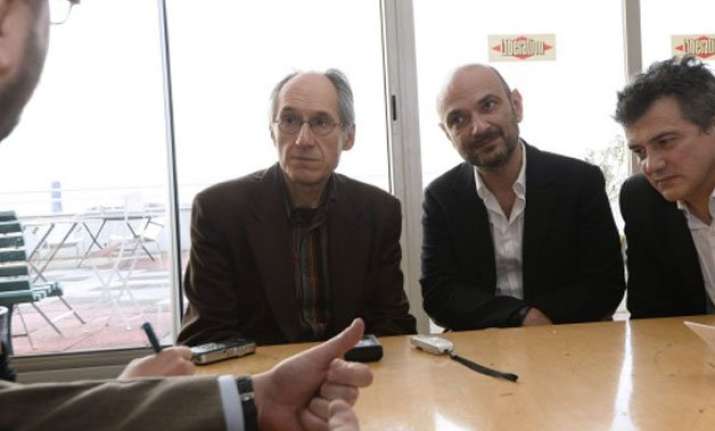 Paris: The controversial French satirical weekly newspaper Charlie Hebdo is coming out with its next issue with the cover page in black and a message printed on it : URGENT RECHERCHE 6 DESSINATEURS (Urgent, hiring 6 new cartoonists).
The next issue will come on Wednesday as usual, says Patrick Pelloux, the lone senior columnist left at the magazine. Pelloux is also a doctor working in A&E. On the day the terrorists carried out the carnage, he arrived late at his office and survived.
"They killed pacifists", says Pelloux, who was comforted on Sunday by French President Hollande.
"They killed people who were extremely tolerant and who treated all religions in the same way. That's why they caricatured all religions in the same way. Without hate.
"We made jokes, we drew caricatures. We had fun. I don't know if you've ever noticed but there are no dictators, who use humour.
"Humour is used by people who know what culture is, who know what people like...That's what Charlie Hebdo did and that's what we'll go on doing."
The weekly paper's next edition will only be 8 pages, but they will print a million copies instead of 60,000 that they used to print normally before the carnage.
On Friday, Charlie Hebdo's editor-in-chief Gerard Briard, alongwith his lawyer Richard Malka and columnist Patrick Pelloux held the first editorial meeting since the carnage.
French newspaper Liberation lent Charlie Hebdo's editors and collaborators space in its Paris office to meet and talk about the future plans.
More than 25 members of the staff, with grey faces and swollen eyes, are now working to prepare the next edition.
Editor-in-chief Gerard Biard said :"I could see everyone at the hospital. Riss' right shoulder was injured, but the nerve wasn't hit. He was clearly in a lot of pain. The first thing he said was that he wasn't sure that we could continue to publish the newspaper."
Fabrice Nicolino, struck multiple times in the attack, "is doing better, even if he "is of course suffering a lot."
Charlie Hebdo's webmaster Simon Fieschi has been "put in an induced coma".
As a young woman journalist Sigolene Vinson broke down at the editorial meeting, Biard comforted her saying "You don't have to feel guilty". Everyone hung their head in silence.  
It was Sigolene Vinson who was spared by the terrorist, who asked her to convert to Islam and put on a veil, before freeing her.