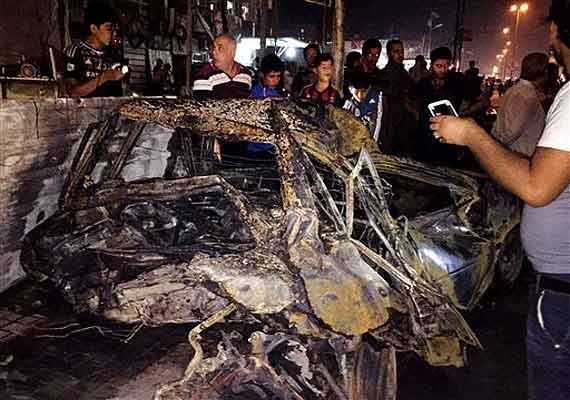 Baghdad:  Two car bombings in Iraq, including one where a suicide attacker drove a Humvee into a checkpoint manned by Iraqi troops and pro-government Shiite militiamen, killed at least 38 people today, authorities said.
The deadliest attack struck the outskirts of the Sunni town of Jurf al-Skhar, where the suicide bomber rammed his explosives-laden Humvee into the checkpoint, killing at least 24 people and wounding 25, a police officer said. Most of those killed were members of the Shiite militia, he added.
No one immediately claimed responsibility for the attack. Jurf al-Sakhar is 50 kilometers south of Baghdad, but the bombing bore all the hallmarks of an attack by the Islamic State group.
Islamic State group militants lost control of the town yesterday, when Iraqi soldiers and the Shiite militia retook it from the Sunni extremist group. The Islamic State group seized the town in July as part of its blitz that captured large swaths of northern and western Iraq.
In the wake of the group's advance, Shiite militias answered a call by Iraq's top Shiite cleric, Grand Ayatollah Ali al-Sistani, to join government forces in fighting the extremists.
Jurf al-Sakhar is part of a predominantly Sunni ribbon of territory that runs just south of Baghdad and lies on a road usually taken by Shite pilgrims to the holy Shiite city of Karbala further south.
Pilgrims will be taking the route next week to commemorate the death of the Prophet Muhammad's grandson, Imam Hussein " one of the most revered Shiite martyrs.
Tonight, a car bomb blast near a line of shops and restaurants in downtown Baghdad killed 14 people and wounded 23, police said. Medical officials confirmed the casualty figures for both attacks. All officials spoke on condition of anonymity because they were not authorised to talk to journalists.
The Islamic State group also holds roughly a third of neighboring Syria. Its offensive has plunged Iraq into its worst crisis since US troops left at the end of 2011.