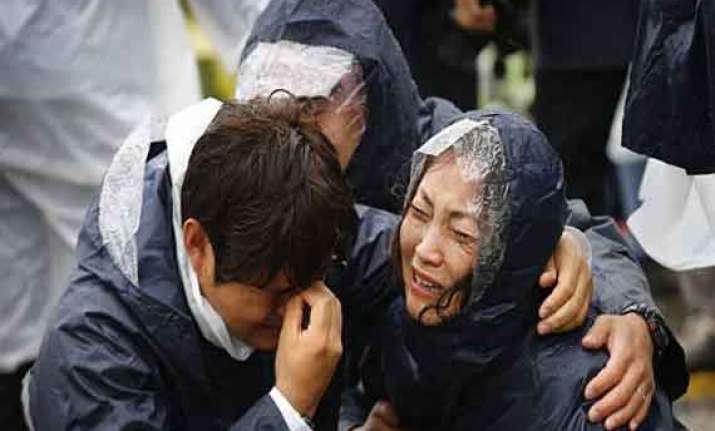 Mokpo, South Korea:
After more than three days of frustration and failure, divers on Sunday finally found a way into a submerged ferry off South Korea's southern shore, discovering more than a dozen bodies inside the ship and pushing the confirmed death toll to 50, officials said.
More than 250 people are still missing, most of them high school students on a holiday trip, and anguished families are furious with the pace of rescue efforts. Divers had previously failed to enter the ferry, officials said, because of extremely strong currents and bad visibility due to foul weather. They have yet to find any survivors in the ship.
The penetration by divers into the ferry follows the arrest of the captain on suspicion of negligence and abandoning people in need. Two crew members also were taken into custody, including a rookie third mate who a prosecutor said was steering in challenging waters unfamiliar to her when the accident occurred.
Beginning late Saturday, when divers broke a window, and continuing into Sunday, multiple teams of divers have found various routes into the ferry, discovering bodies in different spots, coast guard official Koh Myung-seok said at a briefing. Thirteen bodies have been found in the ship, while other bodies were found floating outside, said coast guard official Kim Jin-cheol.
A 21-year-old South Korean sailor, surnamed Cho, also died from injuries he sustained Wednesday while working on a warship going to help rescue passengers in the ferry, said Commander Yim Myung-soo of the South Korean navy.
Coast guard spokesman Kim Jae-in said that among the dead, 23 are students.
Meanwhile, on an island near the submerged ferry, about 200 police in neon jackets blocked about 100 relatives of missing passengers who'd been walking on a main road in an effort, they said, to travel to the presidential Blue House in Seoul to voice their complaints to the president.
"The government is the killer," they shouted as they pushed against a police barricade.
"We want an answer from the person in charge about why orders are not going through and nothing is being done," Lee Woon-geun, father of missing passenger Lee Jung-in, 17, said. "They are clearly lying and kicking the responsibility to others."