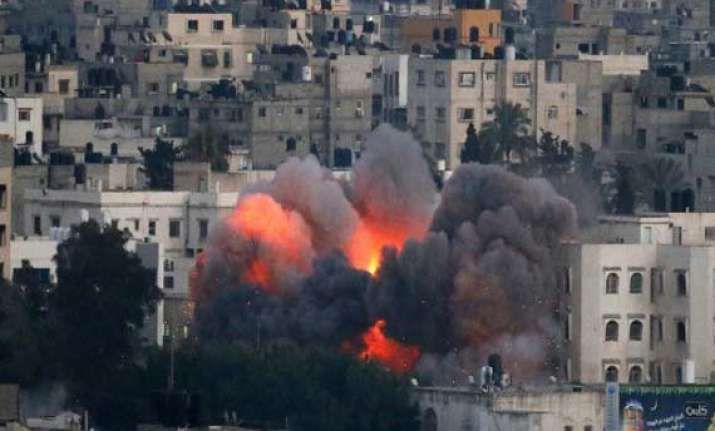 Gaza/Jerusalem: Over 100 Palestinians were killed on Tuesday as fighting between Israel and Hamas intensified in Gaza after a brief lull as both sides ignored international appeal for restraint and the Jewish state warned of a "prolonged" war that has already claimed over 1,100 lives.
Israel stepped up its bombardment of the Gaza Strip warning people in three densely populated areas to vacate their homes in response to rocket attacks from the Palestinian side.
Gaza's only power plant was damaged as Israel carried out 60 air strikes, also targeting sites associated with Hamas, the group which controls Gaza. "A shell had hit a fuel container after another shell had hit a steam engine in the plant setting fire," Nadal Toman, an engineer with the distribution company in Gaza, told PTI.
"It was very difficult to control the fire", Toman, who studied at Aligarh Muslim University, said.
Israeli warplanes also hit the house of Hamas' top leader in Gaza Ismail Haniya, his son said. "The Israeli enemy struck our house twice," Abed Salam Haniya said in a statement.
As the death toll rose, Palestinian leadership offered a 24-hour truce, which could be extended to 72 hours, and that the idea had support from Hamas and Islamic Jihad, another militant group in Gaza, Palestinian news agency WAFA said.
But Sami Abu Zuhri, a Hamas spokesman in Gaza, said the WAFA report was not true and "not related to the resistance," which "speaks for itself."
Ten Israeli soldiers were killed on Monday, five of them in an attempted infiltration into Israel via a cross-border tunnel from Gaza, raising the military casualty on the Israeli side to 53 since the start of Operation Protective Edge July 8.
Prime Minister Benjamin Netanyahu termed it as "a difficult and painful day".
Calling life under the threat of death "inconceivable" for Israel, Netanyahu said the military will not end its incursion into Gaza until it has destroyed tunnels Hamas is using to attack civilians outside Gaza in an appeal to the citizens to prepare for a "prolonged" war.
In the ensuing fight, more than Palestinians were killed across the Gaza Strip on Tuesday, Gaza officials said. The region saw one of the bloodiest Eid in its memory.
A spokesman for Gaza's Ministry of Health said that that more than 1,115 Palestinians have been killed in the 22-day conflict.
UN Relief and Works Agency spokesman Chris Gunness said in a tweet that a number of staff members had reportedly been killed. The UN is currently caring for 182,604 Palestinians in its 82 shelters in Gaza, he said.
The latest escalation came amid intense international pressures for a ceasefire and failed multiple attempts to push both sides for a lull of at least for the three-day Muslim festival of Eid-ul-Fitr.
Nine children were killed yesterday by a strike on a Gaza children's playground in al-Shati refugee camp where some families had come out to celebrate the first day of Eid, a tragedy for which each side blamed on the other.
A spokesman for the Israel Defence Forces (IDF) said that the explosion was caused when a rocket launched by Gaza militants misfired and landed in the park.
Palestinian police and emergency services staff however claimed that an Israeli missile hit as children were playing on a swing set.
"Hamas has violated every ceasefire proposal. We face a cruel enemy whose brutality is directed not only against us, against our civilians, but is also directed against his own civilians. It exploits their civilians in order for there to be more and more victims even as they send fire and death toward us," Netanyahu said blaming the Islamist faction that controls Gaza for the flare up.
"We will continue to act aggressively and responsibly until the mission is completed to protect our citizens, soldiers and children," the Israeli Premier asserted.
Israel has uncovered 32 tunnels used by Hamas to smuggle weapons and launch attacks, the Israel Defense Forces said.
UN Secretary General Ban Ki-moon yesterday criticised both sides for firing into civilians areas, and called for an "immediate, unconditional humanitarian ceasefire in Gaza" during the Muslim Eid al-Fitr holiday. "In the name of humanity, the violence must stop," he told reporters, adding that Gaza was in a "critical condition".
His spokesman later said that Ban was concerned at reports that leaflets had been dropped by the IDF warning residents in the northern Gaza Strip to evacuate to Gaza City.
"If true, this would have a further devastating humanitarian impact on the beleaguered civilians of those areas of the Gaza strip, who have already undergone immense suffering in recent days," his spokesman said.
The Gaza crisis was also discussed yesterday in a joint call involving US President Barack Obama, British Prime Minister David Cameron, German Chancellor Angela Merkel, French President Francois Hollande and Italian Prime Minister Matteo Renzi.