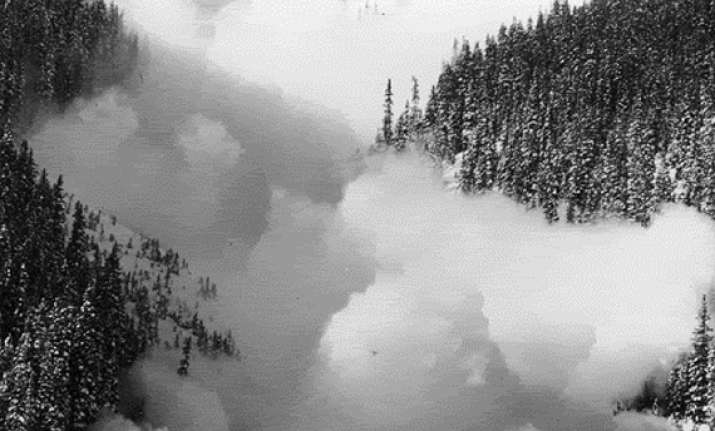 Islamabad, Apr 7: A massive avalanche slammed into a Pakistan Army base in Siachen sector close to the border with India today, burying over 100 soldiers, who were asleep, under snow and triggering a frantic search for survivors. 
The bodies of some soldiers had been pulled out of the snow, state-run Radio Pakistan quoted the army's media wing as saying. It did not say how many bodies had been recovered. 
Some reports suggested that 135 to 150 soldiers had been hit by the avalanche but these could not be independently confirmed.
The rescue operation will take some time to complete, the report said. The avalanche hit a battalion headquarters at Gyari in Siachen sector at 5.45 am.
Chief military spokesman Maj Gen Athar Abbas told the media that over 100 soldiers of the Northern Light Infantry, including a colonel, were trapped following the avalanche. 
Helicopters, sniffer dogs, additional troops and teams of doctors were sent to the desolate region as the army launched a massive rescue operation.
Army officials said heavy engineering machinery has been moved by air from the garrison city of Rawalpindi to speed up the rescue work.
However, state-run Pakistan Television said rescuers were facing difficulties in moving heavy machinery to the far-flung area.
It said the avalanche hit at a time when the soldiers were asleep. The incident occurred at a spot located at a height of 16,000 feet and about 300 km from Skardu in the eastern Karakoram mountain range.
Gyari is home to an important battalion headquarters and at one time, up to 3,000 soldiers were based in the area. 
Following the ceasefire along the frontiers in Jammu and Kashmir, both India and Pakistan reduced troop levels.
The Siachen glacier is known as the world's highest and coldest battlefield.
More Indian and Pakistani soldiers have been killed by adverse weather than combat in the sector since the standoff began in 1984.
President Asif Ali Zardari and Prime Minister Yousuf Raza Gilani expressed shock and concern at the loss of lives and trapping of soldiers.
In a statement, Zardari directed authorities to expedite rescue and relief operations to save the lives of the soldiers. Expressing solidarity with the personnel, Zardari prayed for their early recovery.
He said the civil administration would extend full cooperation to the army's rescue efforts. In a separate statement, Gilani said he was in constant contact with authorities regarding the rescue operation.
The incident would, in no way, undermine the morale of soldiers, he said.