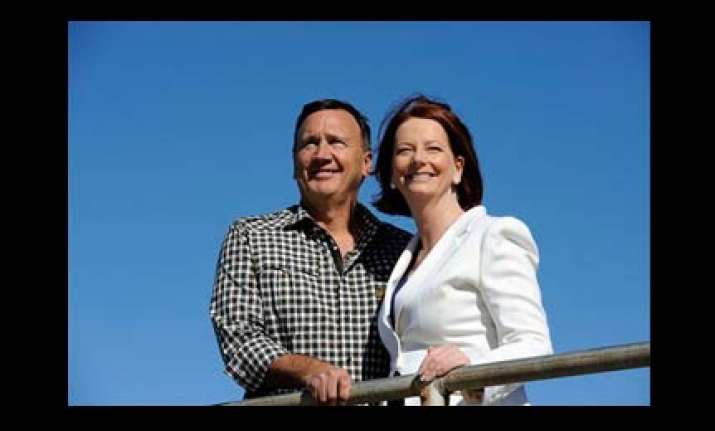 Melbourne: Australians voters have dealt a crippling blow to the ruling Labour in two key provinces and left the country with a prospect of a hung Parliament, forcing its first woman Prime Minister Julia Gillard and her rival Tony Abbott to woo independents for government formation.
In a history-making day for Australia yesterday, a national primary vote swing of more than 5 per cent against Labour left the two-month-old Prime Minister Gillard fighting to hold onto her leadership. She had come to power after the ouster of Kevin Rudd.
However, her challenger and Liberal party leader Abbott declared that the opposition Coalition is "back in business."
Labour MPs were swept aside by swings of more than 9 per cent against them in former prime minister Rudd's home state of Queensland and of over 6 per cent in New South Wales (NSW). The Rockhampton-based seat of Capricornia is the only Labour win in regional Queensland.
 As counting wound up last night before its resumption today, Labour was left with 70 seats after being hit by the massive 9.4 per cent swing against it in Queensland and 6.9 per cent in New South Wales.
After picking up a slew of seats in both states, the Coalition can claim 72 seats, four short of the number needed to form government in its own right.
Gillard was the first to address her supporters here late last night as the prospect of a hung parliament became clearer, telling them the nation faced "anxious" days ahead.
But she vowed to fight to form a government in the coming days and flagged her willingness to work with the crossbenchers. "We have always believed that the best days of country are ahead of us," she said.
"In this camp we have fought for a positive plan for those better days. In these days, as the election result is being determined, the conventions of our wonderful racy ensure that I will continue to lead the government and provide strong and stable government until the outcome of the election is clearly known," Gillard said.
On his part, Abbott said it was clear Labour had lost its majority. "What that means is that the Government has lost is legitimacy," he said.
"The Australian people have decisively rejected factionalism in all its forms. This is a night for pride in our achievements, for satisfaction at the good results that have been achieved," 52-year-old Abbott said.
 "This election has to some extent at least been a referendum on the political execution of a prime minister," he said.
 According to an ABC analysis, the Coalition is to have 73 seats in the House of Representatives, while Labour would get 72, independents 4 and Greens 1. A party needs 76 seats in the 150-member house to form a government.
 It would be the first hung parliament in Australia since 1940, when Robert Menzies' United Australia Party governed with the help of the Country Party and two independents. Meanwhile, this year's elections appeared to have had the highest number of informal votes in at least the last six federal elections.
Early figures from the Australian Electoral Commission (AEC) show about 5.65 per cent of ballots cast would not count because they were filled out incorrectly or left blank.
Only 3.95 per cent were informal at the 2007 election, media reports said, adding counting will resume today after 10.8 million votes were tallied last night. The AEC estimates that there is still about 400,000 ordinary votes left to count.
Former Prime Minister John Howard, who was ousted by Kevin Rudd in a 2007 landslide, said Abott's "magnificent campaign" had "potentially destroyed" 48-year-old Gillard's first-term government.
The Greens till last night had snatched more than 11 per cent of the vote in Australia's too-close-to-call elections, in what the party described as a "Greenslide". PTI