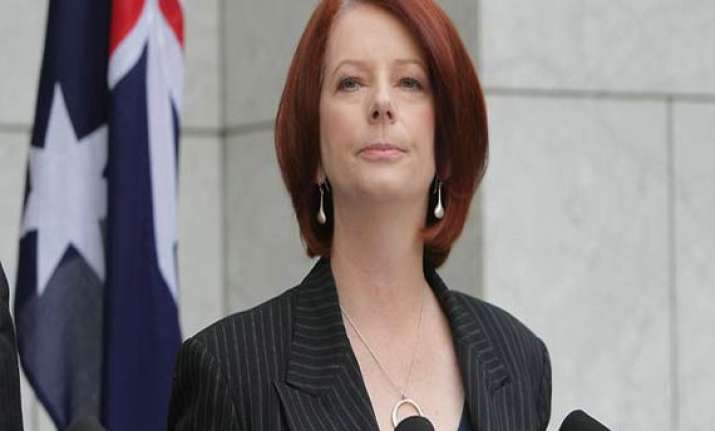 Canberra, Australia , Nov 15:  Australian Prime Minister Julia Gillard says she favors allowing a parliamentary vote on same-sex marriage -- although she personally opposes changing the law.

In an opinion piece published Tuesday in the Sydney Morning Herald and other Australian newspapers, Gillard said lawmakers "should be free to vote in Parliament according to their own values and beliefs."

However, Gillard quickly came under attack from same-sex marriage advocates, who claimed the prime minister was endorsing a vote she knew was destined to fail in order to keep the status quo. Those advocates want Gillard and her ruling Labor Party to endorse same-sex marriage.

Gillard, on the other hand, wants her party to endorse her approach when the party meets for its annual national conference next month. The party currently opposes gay marriage, although several state branches have recently voted for that position to be reversed.

Greens party leader Bob Brown, who is openly gay, told ABC Radio Tuesday that there is no realistic chance of the same-sex marriage vote passing without support from Gillard and the Labor Party.

"My appeal to the prime minister is to get behind it," he said. "This is modern Australia ... It's time for the prime minister to lead that great change."

But Gillard said in her opinion piece that she won't support such changes to the country's Marriage Act, which prohibits same-sex marriage.

"My position flows from my strong conviction that the institution of marriage has come to have a particular meaning and standing in our culture and nation," she said, "and that should continue unchanged."

Currently, three Australian states recognize civil unions, which entitle same-sex couples to the same federal benefits as married couples. Recent polls indicate a majority of Australians favor allowing same-sex marriage.