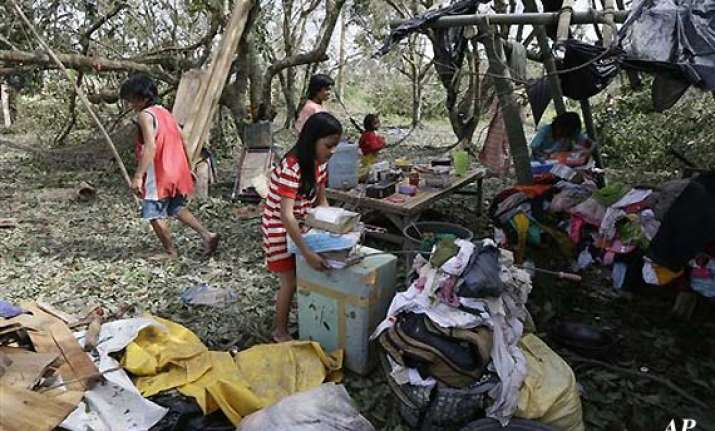 Manila, Dec 6: Authorities said nearly 350 people had been killed, and a further were still missing 400 missing on Thursday, following a powerful typhoon that washed away emergency shelters, a military camp and possibly entire families in the southern Philippines.
Compostela Valley and Davao Oriental provinces were among the hardest hit by Typhoon Bopha as it blew in from the Pacific Ocean on Tuesday, the Office of Civil Defence reported.
At least 200 of the victims died in Compostela Valley in New Bataan alone, including 78 villagers and soldiers who perished in a flash flood that swamped two emergency shelters and a military camp.
The farming town of 45-thousand people was left a muddy wasteland of collapsed houses and coconut and banana trees felled by ferocious winds.
Bodies of victims were laid on the ground for viewing by people searching for missing relatives.
Some were badly mangled after being dragged by raging floodwaters over rocks and other debris.
"We did not know where to go to avoid the floods, our place was at the centre of the storm and floods," said survivor Carlos Agang.
One man held a picture of his mother as he tearfully scanned a list of people missing after the storm.
"I hope to see him alive, but if not I just want to see him again," said a woman of her missing husband.
In nearby Davao Oriental, the coastal province first struck by Typhoon Bopha at least 115 people perished, mostly in three towns so battered that it was hard to find any buildings with roofs remaining, according to officials.
After slamming into Davao Oriental and Compostela Valley, Bopha roared quickly across the southern Mindanao and central regions, knocking out power in two entire provinces, triggering landslides and leaving houses and plantations damaged.
More than 170-thousand people fled to evacuation centres.
On Thursday, the typhoon was over the South China Sea west of Palawan province and continued to blowing northwestward, possibly headed to Vietnam or southern China, according to government forecasters.
The International Federation of Red Cross and Red Crescent Societies has issued an urgent appeal for 4.8 million US dollars to help people directly affected by the typhoon.
Some 20 typhoons and storms lash the northern and central Philippines each year, but they rarely hit the vast southern Mindanao region where sprawling export banana plantations have been planted over the decades because it seldom experiences strong winds that could blow down the trees.