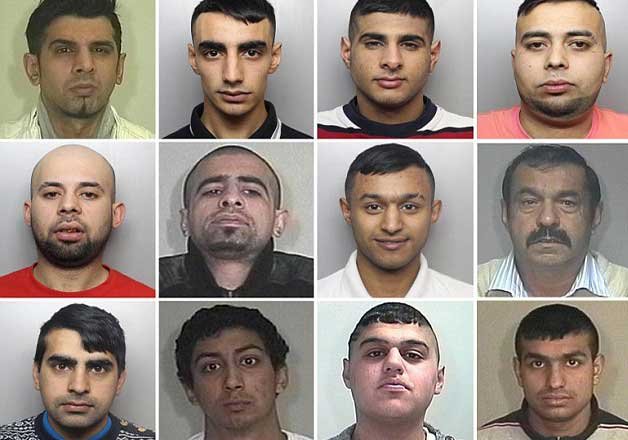 New Delhi: In a shocking incident, 12 men of Pakistani origin have been held guilty of the rape and abuse of a 13-year-old minor girl in Keighley, West Yorkshire, England. The crime was not one-off but continued for over a year with the men, sometimes alone and at other times in groups, forcing the girl to heed to their heinous intentions.
The kingpin in this case is a drug dealer – a teenager named Arif Chowdhury, who was 15 when the ordeal for the victim began. Distraught with a feud in her family and left vulnerable, Arif recruited the girl as a drug 'runner' for him who delivered drugs to Arif's customers for him.
The streets of this town, like many of Britain's smaller towns, are divided between Asian gangs, mainly involved in drug trade that flourishes in these towns. Arif, a resident of Bangladeshi origin, was one such drug dealer who made good money off the trade.
Far from staying a 'runner', the innocent girl soon became a victim of repeated sexual abuse and physical attacks not just by Arif and his friends; but also the associates of rival groups. Investigations into the case revealed that Arif and four of his friends (two sets of brothers, all in their early 20s or late teens) gang raped the 13-year-old at will. The humiliation was so severe that after one sustained attack, they mocked their victim by scrawling their names next to hers on the wall of a parking bay.
The contempt of the convicts for this little girl was so strong that even traditional rivalries were set aside and she was even shared with rival groups. In all, 12 Asian youths and men took it in turns to violate her in the course of one hellish year.
The persecution was not just physical. The perpetrators also telephoned her at home and called her names, threatened her if she refused to have sex and insulted her on Facebook, and, once, when she was out with her grandmother in the town centre, they shouted out: 'We'll see you tonight.'
The matter came to light of authorities when the girl finally mustered courage to speak about her ordeal to social organisations. The case became a talking point and the culprits were handed 143 years in total, with individual sentences ranging from three-and-a-half to 20 years. The kingpin Arif, meanwhile, had fled to his native country of Bangladesh and has escaped the punishment.  
Asian gangs, predominantly flanked by drug traders of Pakistani origin, have now turned into a phenomenon associated not just with inter-gang rivalries and violence but also with paedophile cases. It is a grim reminder of this phenomenon that Britain's small towns are today faced with and a crisis that the government refuses to accept – that of growing Asian gangs and the threat they pose to the society.  
The list of towns and cities blighted by such paedophile activity in the recent past is much longer than people might think. There have been at least 14 major trials, across the length and breadth of the country: in Oxford, Derby, Leeds, Aylesbury, Telford, Banbury, Middlesbrough, Dewsbury, Carlisle, Burnley and Blackpool. The prosecutions resulted in the conviction of 66 men - many from a Pakistani background.
But even this figure does not reflect the true scale of a problem that liberal commentators are still shamefully reluctant to confront. Over 300 'predominantly' Asian suspects and an estimated 1,400 young female victims over the past 16 years have been identified so far. Keighley itself has witnessed rising number of child sexual exploitation at the hands of such gangs and an astonishing 129 separate investigations.
While many Muslims lead exemplary family lives and share the outrage sparked by these crimes, there is a dangerous minority who do not. A small number of people within the Muslim community do take the view that the victim is partly to blame.
"They believe it takes two to tango. They must be confronted about their abhorrent views," a local Muslim administrator was quoted as saying by The Daily Mail.
Understandably then, the victim has been subjected to backlash from some local Muslims shortly after the 12 men were sent down on Monday.  The girl, remember, was just 13 years old at the time of the attacks. She came from an unhappy home and had been rejected by her mother, a heavy drinker. The view expressed by some was that even if they might have had sex with a 13-year-old, she had lied about her age and went with them willingly. In other words, in that chilling phrase again, 'it takes two to tango'.
Keighley has a population of 56,348, of which 39,971 are white British (71 per cent), according to the last census. There are 10,261 Pakistanis (18 per cent) and around 2,000 Bangladeshis.
Experts say that multi-culturalism, which encouraged ethnic minorities to keep their own culture rather than integrate into British ways, has geographically divided the town by race. Keighley was recently named among the 'least integrated' places in the UK in a report by the Policy Exchange think-tank. The findings were based on key indicators such as the number of people who held a British passport, how many households were ethnically mixed, and employment status.