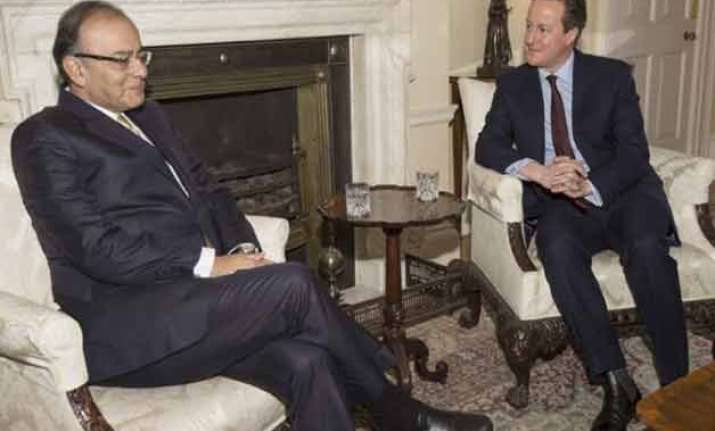 London: Finance Minister Arun Jaitley today met British Prime Minister David Cameron who evinced his interest in India's ongoing reform agenda.
"This morning I called on the Prime Minister (David Cameron) and with regard to what is happening in the Indian economy as far as the reform process is concerned, there is a huge amount of interest that all British leaders have.
"The passage of the Insurance Bill in the Rajya Sabha on the eve of my visit here couldn't have come at a better time," Jaitley said soon after he joined Cameron at the unveiling ceremony of Mahatma Gandhi's statue at Parliament Square here.
"The principle purpose of my visit was the unveiling of the statue itself and I had to represent the government of India. Today is both historic and nostalgic. It is a privilege to be associated with this. The real test of a great leader with a place in history that Gandhiji had is that his one-time adversaries now recognise his greatness.
"It's a very touching occasion as far as all of India is concerned," he said.
In reference to his other key meetings during his two-day visit to the UK, the finance minister highlighted his meeting with Prince Charles at Clarence House yesterday.
"This was really in connection with his charities and expansion of those activities in India. There is some activity and an advisory committee he has in the context of India and he is quite keen that some of those programmes could be expanded, so we shared some ideas on that," Jaitley explained.
His meeting with the UK Chancellor was "really about the economic cooperation issues between India and the UK".
"I've known and met Mr Osborne even earlier when both of us were in Opposition. There's a delegation of Indian industry and the Chancellor was gracious enough to host the delegation as well over breakfast. Of course, trade ties are becoming stronger.
"We recently met when he came to India and then in Davos both of us had a meeting. There are not too many outstanding issues. India's investment here and the UK's investment in India are quite strong and improving," he said.
Besides the Conservative Party leaders, Jaitley stressed that India has also had "historically close ties with the Labour Party" in reference to his meeting with Opposition leader Ed Miliband.
In reference to the "high level of maturity" achieved in India's international affairs, the senior BJP leader highlighted that this has been the "first time in history that a US president has come twice to India during his tenure and the first time a British prime minister has come thrice during his tenure".