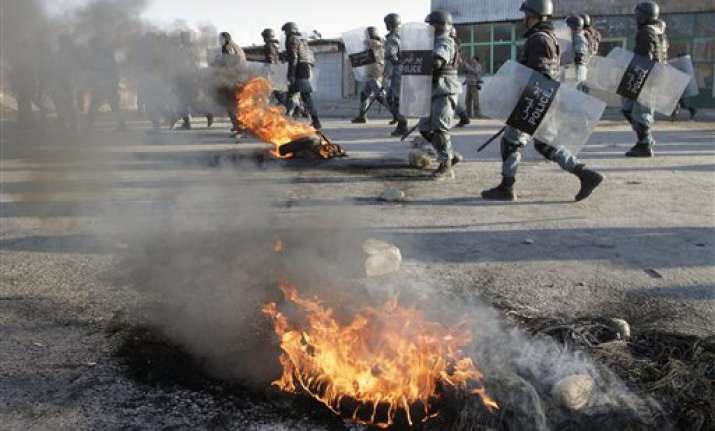 Kabul, Feb 25: Anti-US protesters tried to storm a US consulate and march on NATO headquarters in Kabul on Friday as violent demonstrations over the burning of Qurans pushed into a fourth day, killing 24 people.

Afghan officials said nine people died today, seven of them in the relatively peaceful western province of Herat, where the assault was made on the consulate in the capital.

The Quran burning has inflamed anti-Western sentiment already smouldering over abuses by US-led foreign troops, such as the release last month of a video showing US Marines urinating on the corpses of dead Afghans.

President Hamid Karzai's government and the US-led NATO mission in Afghanistan had appealed for calm and restraint, fearful that Taliban insurgents are trying to exploit the anti-American backlash.

But in Herat city, three people died as protesters surged towards the US consulate while four more were killed elsewhere in the province, provincial spokesman Moheedin Noori told AFP.
"Seven people were killed and 50 others were injured mostly in gunfire—across Herat province," said Noori.

Another protester was shot dead and two were wounded when demonstrators tried to overrun the Czech-led military-civilian provincial reconstruction team in northeastern Baghlan province, provincial governor Abdul Majeed said.

Friday's deaths bring to at least 24 the number of people killed since Tuesday at violent anti-US protests over the burning of Korans at the US airbase of Bagram, north of the capital.

In Kabul, AFP photographers saw two bodies at one of multiple protest sites, but an interior ministry spokesman said only that three people were wounded.