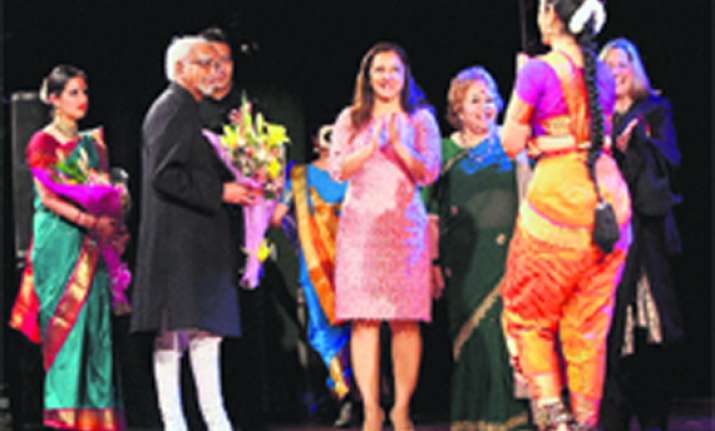 Ansari opens Festival of India in Peru
India TV world desk
Lima(Peru): Vice-President Hamid Ansari on Sunday opened the Festival of India in Lima as part of India's policy to engage mineral-rich Peru.
Ansari was received by Peru  Vice-President Marisol Espinoza.  The Festival of India has been organised to mark the 50th anniversary of the establishment of diplomatic relations between India and Peru.
Peru is the world's largest producer of silver and fifth largest in gold extraction apart from having significant copper and zinc reserves.
Bilateral trade between India and Peru in 2012 stood at $1.68 billion. India is working towards a Free Trade Agreement with Peru.
Peru has issued special postage stamps depicting the Machu Picchu mountains and the Taj Mahal.
Peru has some 400 Indians, mainly engaged in business and trade. Five Indian companies, including IFFCO and Zuari Agro, have invested in Peru's mining sector.
Pharmaceutical companies, Reliance, TCS, Wipro, Mahindra Satyam and Aegis have a presence in Peru.
At the Festival of India, "Nrityarupa", a mosaic of Indian dances Bharatnatyam, Kathak, Odissi, Manipuri, Kathakali and Chhau was presented.
A festival of films is being held to showcase films like Dadasaheb Phalke's 'Raja Harischandra', Raj Kapoor's 'Bobby',
Aamir Khan
's 'Taare Zameen Par', Satyajit Ray's 'Ghare-Baire', Shahrukh Khan's 'Kabhi Haan, Kabhi Naa', Govind Nihlani's 'Ardh Satya' and Neeraj Pande's 'A Wednesday'.