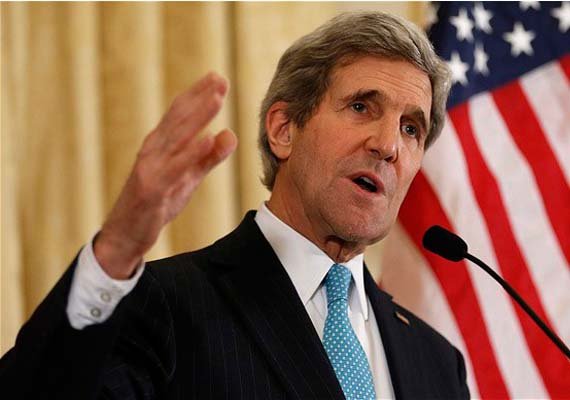 Washington: The US is not sufficiently committing the resources it should contribute to the world, Secretary of State John Kerry said today as he cited Prime Minister Narendra Modi's visit to the country wherein it could not even commit a USD 1 billion loan guarantee.
"American power needs to be projected thoughtfully and appropriately, but if we're not...I'll give you an example. Prime Minister Modi from India came here the other day," Kerry said in an interview to the Sixth Annual Washington Ideas Forum.
Modi, he said came to the US after his trip to Japan and the India visit of the Chinese President.
"Both of whom gave him double-digit numbers of billions of dollars for infrastructure development. China, I think, did USD 30 billion; Japan did somewhere similar...But more," Kerry said.
"How did we do?' he was asked.
"We couldn't even do a USD 1 billion loan guarantee, the United States of America. Now everybody here ought to be shocked by that. We are behaving like we're the richest country on the face of the planet. We're still critical to everything that happens in the world. And we are not sufficiently committing the resources necessary to do what we need to do in this world," Kerry said.
Responding to questions on the current situation in the world, Kerry said the Cold War was easy compared to where is today.
"The world we're living in today is much more – look, a lot of countries have economic power today that they didn't have in the last century. We wanted that. We have about 15 nations today that 10 years ago were aid recipients from the United States. South Korea is an example. Today, South Korea is a donor country, doing what we've urged countries to do, which is accept global responsibility," he said.
"So now you have more countries with more economic power in a globalized world, and they're feeling their oats. They're going to automatically react and say, well, wait a minute now, do we really want the behemoth United States, superpower of the world, telling us all the time what we have to do?" he said.
"And so you have to approach these things a little bit differently. It requires more diplomacy. It requires more dialogue. It requires more respect for people, more mutual interest finding. It's much more of the world that Henry Kissinger describes in his wonderful book, Diplomacy, where he talks about state interests and the balance of power," he said.
"We are much more, in many ways, back towards the latter part of the 19th century or even 18th century in dealing with countries. Countries are flexing their muscles and standing up for their own interests and they have some greater economic independence and ability to do it.
"Then you see the BRICS – Brazil, China, India – standing up and saying – Russia – we want something – a different access, in a sense. So we have to work harder at it. And my warning to the Congress and to the country is, really, this doesn't come for free," Kerry said.