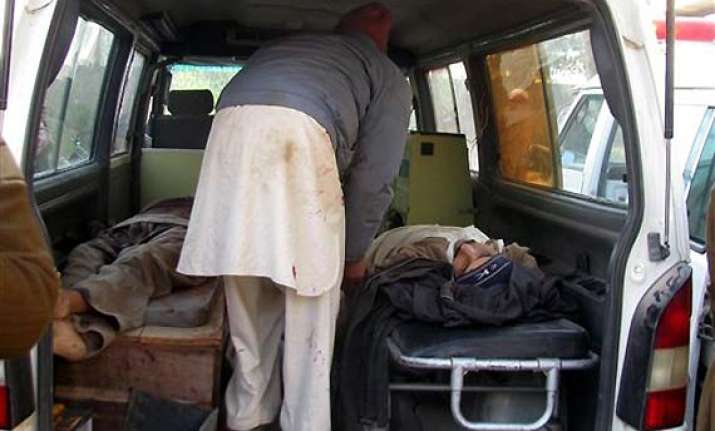 Islamabad, Dec 10: A group of Taliban suicide attackers stormed a police station in Pakistan's restive northwest today, triggering a gun battle that left eight persons dead, including four policemen.
The terrorists, armed with heavy weapons and wearing suicide vest, launched the attack at Kakki, located 14 km from Bannu city in Khyber-Pakhtunkhwa province, while policemen and local residents were offering prayers at a mosque inside the police station compound.
The terrorists began firing and lobbed grenades after they were challenged by a policeman. About 20 policemen who were present in the police station returned fire, triggering a gun battle that continued for over an hour.
Four policemen and two civilians were killed when one suicide attacker blew himself up in the mosque. Another attacker blew himself up in a nearby market while fleeing, state-run Radio Pakistan reported.
At least eight persons, including two policemen and an officer, were injured in the attack.
There was confusion about the total number of attackers, with some reports saying up to five terrorists were involved in the incident and that some of them had escaped.
Army troops were called out after the attack and the security forces cordoned off the area and conducted a search operation.
The Bannu region is located close to the Taliban stronghold of North Waziristan and has witnessed several attacks by militants.
President Asif Ali Zardari condemned the attack, saying such cowardly acts cannot shake the government's resolve to wipe out terrorism.
Tehrik-i-Taliban Pakistan (TTP) spokesman Ehsanullah Ehsan accepted  responsibility for today's attack on Kaki police station near Bannu.
The TTP spokesman said the attack was carried out in retaliation to the recent killing of Ibrahim Mehsud, a nephew of former TTP chief Baitullah Mehsud, who was killed in a US drone strike in August 2009.
Both the bombers reportedly blew themselves up during the attack.
DPO Bannu Nisar Tanoli confirmed that three police officials were killed whereas two civilians and an off-duty serving armyman who were offering Fajr prayers in the mosque inside the compound were also killed in the attack.
Army arrived at the site of attack and surrounded the area whereas local villagers  also supported the security personnel during the clash.
The militants were holed up in a mosque inside the police station compound, enabling the attackers to resist the security forces and to prolong the gun-battle for three hours.