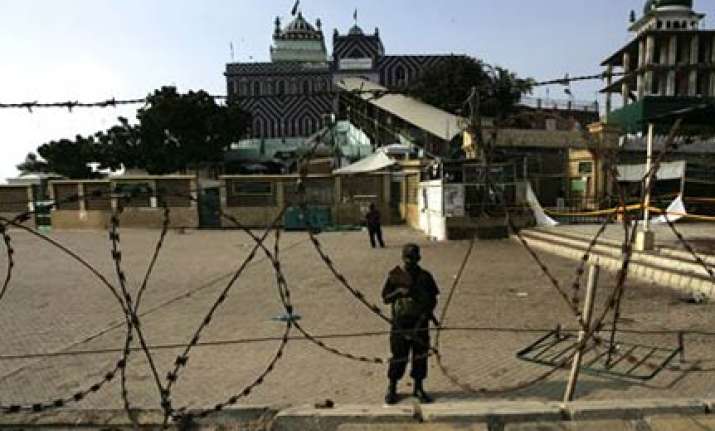 Karachi, Oct 18: Mohajir Quami Movement today won a bloody by-election in Pakistan's commercial capital with 41 people killed and 60 injured in the ethnic political clashes mainly between Pashtuns from northwest and Urdu-speaking Mohajirs.
Karachi residents elected Saifuddin Khalid from the MQM as provincial lawmaker to replace the party's Raza Haider, who was shot dead by gunmen in August.
MQM's candidate won the elections by a huge margin securing nearly 91,000 votes but in the run up to the elections and until today police and rescue officials said around 41 people had been killed in the violence with over 60 injured in firing incidents in different parts of the city.
Concerned by the volatile situation in Pakistan's biggest city, Interior Minister Rehman Malik rushed to Karachi for talks on how to bring an end to the violence and said more than 60 people had been arrested in connection with the killings.
"We want to end political killings in Karachi. After every two or three months a new wave of killings starts. The people of Karachi have to bear the unrest again and again and this has to end," Malik told reporters.
"We will bring to book and before the media those responsible for orchestrating target killings in the city and they will be punished, regardless of their party affiliation," Malik a close aide of President Asif Zardari said.
Malik has convinced the government's main coalition partner, the Mutthaida Qaumi Movement not too break its alliance with the ruling Pakistan Peoples Party.
A wave of violence that followed Haider's death claimed 85 lives in the city of 16 million. Police said the latest deaths on Saturday and Sunday were being treated as politically linked targeted killings.
The polls for the provincial assembly seat PS-94 (Orangi town) was seen as a direct contest between the Mutthaida-e-Qaumi Movement which represents the Urdu speaking population of the city and the ANP which represents the Pasthun speaking migrants from northwest.
The MQM is a partner in the ruling coalition led by the Pakistan People's Party in Sindh province.
More than 260 targeted killings were reported in Karachi during the first six months of this year, compared with 156 during the same period in 2009, rights groups have said.
Malik said the federal government was deeply concerned about a fresh wave of targeted killings in Karachi and is working on various proposals of the Sindh government to tackle this problem which recurs after every two or three months.
Referring to his meetings with law enforcing agencies, he said that nobody will be spared if they are found involved in any criminal activity.
Action will be taken against such persons even if they belong to the MQM, ANP or the ruling Pakistan People's Party, he said.
Malik said several arrests had been made in connection with the killings and action against criminals will be taken without any discrimination.
He said the PPP-MQM 'friendship' will be carried forward for the country's stability.
MQM leader, Farooq Sattar said his party had shown great restraint until now but could not keep on ignoring the targeted killings of its workers.
Sindh governor, Ishratul Abad was called to Islamabad late Sunday night by President Zardari for talks after the latest round of violence led to fears that the MQM might break its alliance with the government. PTI