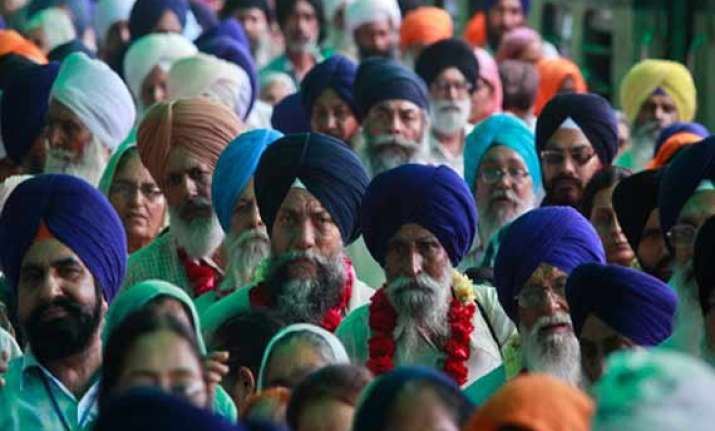 Lahore: Around 4,000 Sikhs from India and other countries are expected to arrive in Pakistan on Tuesday for the 546th birth anniversary celebrations of Guru Nanak, the founder of Sikhism, at his birthplace Nankana Sahib in Punjab province.
"Some 3,000 Sikhs are expected to reach at Wagah Border on Tuesday from India and 1,000 from European countries to take part in the festivities in connection with 546th birth anniversary of Baba Guru Nanak at Nankana Sahib," Evacuee Trust Property Board (ETPB) deputy director (shrines) Fraz Abbas told PTI here today.
'Amrat Jal' (holy water) will be gifted to Indian Sikhs for the first time on their arrival here on November 4 in connection with the birth anniversary of Guru Nanak, fro which the Pakistani government has called in rangers for their security.
Abbas said the ETPB and Pakistan Gurdwara Parbhandik Committee officials would receive the Indian pilgrims at Wagah Border and would ensure that they were provided with all facilities relating to immigration, custom and foreign exchange. They would also be served food at the border.  
He said, "For the first time 'Amrat Jal' will be gifted in sealed bottles to Indian Yatris. We have cleaned the sacred well at Gurdwara Janamesthan Nankana Sahib (some 80 kilometers from Lahore) on the complaints of the Indian Sikhs and Amrat Jal will be served to the Yatrees from there.  About security arrangements, Abbas said, "Since Guru Nanak's birth anniversary is falling in Islamic month of Muharram we have taken extraordinary security measures for the vising Sikh pilgrims. In addition to police, Elite Force commandos and Rangers will provide security to the visiting Yatris".
He also said the ETPB which looks after the holy places of minorities in the country has also operated four special trains in Sindh and Peshawar to bring Sikhs and Hindus to Nankana Sahib for the festivities.
The major event will be held on November 6 at Nankana Sahib where Yatrees will also organise the rally "Nagar Keeten" with Granth Sahib in a special coach from Janam Asthan to Gurdwara Tanbu Sahib.
The pilgrims will reach Panja Sahib Hassan Abdal through four special trains on November 7. On November 11, Punjab Governor Chaudhry Sarwar will host brunch in honour of the Yatris at the Governor House.
The next day the pilgrims will visit Gurdwara Rohri Sahib in AimanAbad and Gurdwara Kartar Pur Sahib in Narowal. On November 13, yatris from India will leave for home.